Under new laws, you must manage any activities that pose a risk to human health and the environment from pollution or waste. This applies even where the activity has low risks.
The general environmental duty (GED) is unlikely to affect you if your business:
doesn't have polluting activities
only produces minimal domestic-type wastes that go in normal bins.
Understanding what low-risk activities are
Businesses that do not have polluting activities, or only produce minimal domestic-type wastes that go in normal bins, are considered to pose low risk to human health and the environment through their activities.
For most businesses, complying with environmental laws means ensuring appropriate removal of waste, clean sites and keeping rubbish and chemicals out of stormwater drains. These businesses are unlikely to have new requirements under the new laws.
Businesses with activities that pose low risk of harm to human health and the environment from pollution or waste may include:
retail and convenience stores
offices
cafes
bars
pharmacies.
If your business poses low risk to human health and the environment, you can demonstrate risk management through the actions you take. You don't need to document your risk management practices.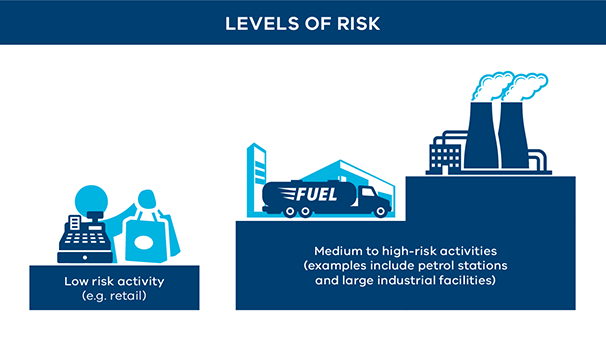 Managing low-risk activities
You might not need to do anything different if your activities pose little or low risk to human health or the environment. You might already be taking actions you need to at work.
For example, occupational health and safety (OHS) laws already mean that you must act to prevent slips, trips and injuries after spills. Other existing controls through which you can meet the expectations of the GED can include:
local laws
planning permits
industry codes of practice.
At a minimum, take reasonable precautions and use your common sense. Steps you can take to manage low-risk activities at work include:
training your staff in responsible waste management
keeping your workplace clean and tidy
recycling paper, cardboard, glass and plastics
minimising wastewater
making sure you use stormwater drains just for water
using authorised waste transporters
utilising appropriate waste disposal, such as those provided by your local council or a waste management provider or contractor
switching off equipment at night.
Complying with the law is a four-step process
There are four basic steps you need to follow to manage risk. This method is a continuous process which returns to step 1 after you put a control in place.
You need to:
Identify – what hazards are present that might cause harm?
Assess – how severe is the risk, based on the likelihood of it happening and its consequence?
Implement – what measures are suitable and available to the business to eliminate or reduce risk?
Check – review controls to make sure they're effective.
Assessing and controlling risk: a guide for business (EPA publication 1695) has more information about managing risks.