Risks are present in all business activities. To comply with the general environmental duty, under new laws, anyone conducting an activity that poses any risk to human health or the environment from pollution or waste must manage that risk.
Managing medium to high-risk activities
Medium to high-risk activities can pollute soil, groundwater, surface water and air if they're incorrectly undertaken. They include:
handling and storing liquids
disposing of chemicals
receiving, storing and treating waste
discharging industrial wastes.
Many medium to high-risk activities can also produce harmful odour, noise and air pollution. For example:
receiving raw materials, roasting coffee and heating waste polystyrene can cause odour pollution
roadworks, construction, manufacturing and sheet metal activities can cause noise pollution
earthworks and stack emission activities can cause air pollution.
You may already be controlling medium to high risk activities under the existing EPA licensing and approvals process. Or, you may need to:
If you don't already control risks, you can start by finding out how to manage your environmental impact.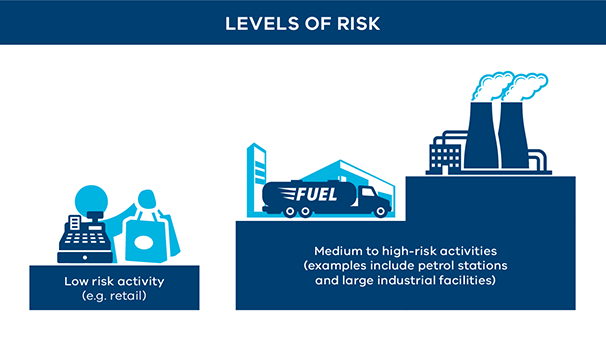 Complying with the law is a four-step process
There are four basic steps you need to follow to manage risk. This method is a continuous process which returns to step 1 after you put a control in place.
You need to:
1. Identify – what hazards are present that might cause harm?
2. Assess – how severe is the risk, based on the likelihood of it happening and its consequence?
3. Implement – what measures are suitable and available to the business to eliminate or reduce risk?
4. Check – review controls to make sure they're effective.
Assessing and controlling risk: a guide for business (EPA publication 1695) has more information about managing risks.