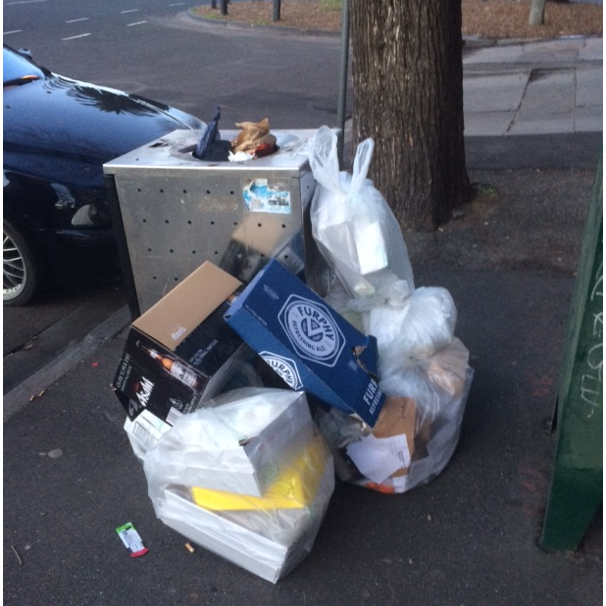 In the warmer months of 2019-20, the Port Phillip City Council called upon the Port Phillip Officer for the Protection of the Local Environment (OPLE) to conduct a strategic project to manage a recurring local litter problem.
Over summer the City of Port Phillip sees a large increase in visitors, who come to enjoy the sun and sea of the Bay. Despite regular waste collection to accommodate for increased traffic, council waste collectors had reported overflowing public rubbish bins in main shopping areas. Their reports noted commercial waste from local shops contributing to the problem.
"Overflowing bins are problematic because litter can easily find its way into the stormwater system and to the sea from there, polluting the Bay and endangering sea life. It is also prohibited to use public bins for commercial use, and this can lead to significant fines under s45E of the Environment Protection Act 1970," said Port Phillip's OPLE.
As part of this project, the OPLE worked with council waste collectors to map problem areas and helped to develop a council-branded flyer for local traders, outlining their obligations and potential fines. The OPLE conducted a sweep of 89 local businesses in Bay and Acland Streets, speaking with staff, handing out flyers, and emailing business owners to support them to comply with their obligations.
"It can be hard to identify and fine litter offenders, as it is not always easy to catch them in the act," said the Port Phillip OPLE. "The provision of education and information can be enough to justify subsequent fines of businesses when commercial waste continues to find its way into public bins."
Following the education sweep, the OPLE worked with the council Litter Enforcement Officer (LEO) to conduct surveillance and collect evidence of further non-compliance, which lead to action being taken by the council. "Many business operators were unaware that the commercial use of public bins was considered littering, so this project was a great reminder for everyone and helped to improved small business state of knowledge about better waste management," said the Port Phillip OPLE.
Read more OPLE case studies
Solving odour issues in Dandenong North
Preventing litter from Surf Coast building sites
Reducing commercial noise in Port Phillip
Protecting waterways in Wyndham
Keeping community safe from waste in Loddon
Preventing stormwater pollution in Dandenong
Protecting stormwater in Brimbank and Hobson Bay