The Victorian Government, in its response to the 2016 Ministerial Advisory Committee inquiry into the EPA, is implementing the Officers for the Protection of the Local Environment (OPLE) pilot.
About the OPLE pilot
The OPLE pilot commenced in 2017. It is designed to test the effectiveness of embedding EPA officers in councils to reduce environmental and amenity impacts of lower-risk and lower-complexity waste and pollution issues at a local level.
Initially, 11 OPLEs were employed, authorised by EPA and placed in 13 council offices across Victoria. In June 2019, the Victorian Government committed further funding to expand the OPLE pilot. This allowed the OPLE pilot to grow to 23 councils supported by 19 OPLEs.
The extra funding recognises EPA's critical role in preventing harm from pollution and waste. The expanded OPLE pilot will continue to focus on responding to smaller-scale, lower-risk pollution issues in communities such as dust, odour, noise and small-scale illegal dumping. It also includes a focus on reducing illegal chemical and waste stockpiling.
The OPLE pilot is strengthening relationships between EPA and councils, resulting in faster responses to smaller-scale pollution, increased accountability and better outcomes for community, industry and government. You can read case studies that showcase success stories for EPA OPLEs.
The OPLE pilot will continue to 30 June 2021.
Participating councils
EPA is partnering with the following councils. Click the image to see a high-resolution version.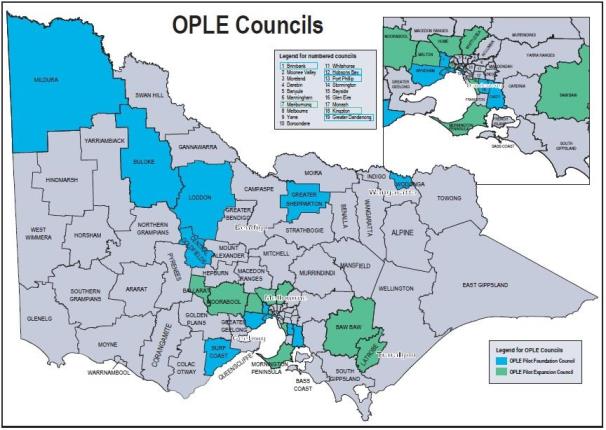 View the OPLE councils map as a PDF (1.9MB)
Metro councils
Regional councils
Evaluation
EPA engaged an independent assessor to evaluate the OPLE pilot's performance and effectiveness against its objectives:
improved responses to pollution and reports (immediate and planned responses)
improved industry compliance with their obligations
increased proactive and preventative measures (to prevent harm in the first place)
improved capability and relationships between local government and EPA.
The Progress, outcomes and future report completed by First Person Consulting in August 2019 found the OPLE pilot is achieving its objectives and delivering a range of positive outcomes for community, industry and government stakeholders. A copy of the report will be available shortly.
Media releases
OPLE pilot announced (Premier of Victoria, 12 May 2017)
OPLE pilot councils confirmed (Premier of Victoria, 27 July 2017)
OPLE pilot expansion (24 June 2019)
This page was copied from EPA's old website. It was last updated on 5 September 2019.