On 30 August 2018, there was a large industrial fire in Tottenham. The fire broke out at a warehouse at 420 Somerville Road (the site). People sometimes know this fire as the West Footscray industrial fire.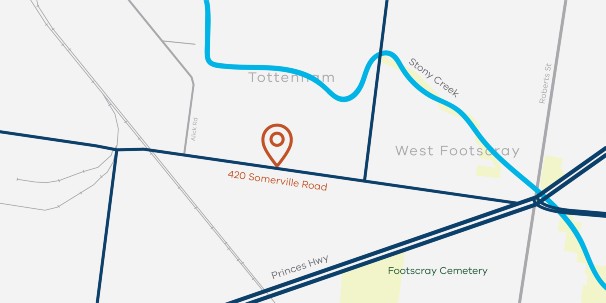 How we responded to the Tottenham industrial fire
EPA was a support agency while the fire was burning. We monitored the local area's air and water quality. We also informed emergency personnel about risks to human health from the fire.
The site's stormwater drains are now plugged. This means no onsite stormwater leaves the site and flows into nearby Stony Creek.
WorkSafe has used its powers to take control of the site. It will oversee the removal of the site's remaining industrial waste and dangerous goods. WorkSafe has formed taskforce that will oversee the site's cleanup. The taskforce includes EPA, emergency services and local government. We estimate we need to remove up to 15,000 m3 of debris from the site.
Stony Creek recovery phase complete
EPA has been working with Melbourne Water, Maribyrnong City Council and other agencies to oversee safe removal of contaminated silt and sediment from Stony Creek downstream from Paramount Rd. The removal of contamination from the fire is now complete and it's time to focus on the long term rehabilitation of the waterway.
Removal of precautionary health signage
During the incident contaminated firewater from the fire site flowed into nearby Stony Creek. A range of chemicals entered the creek. EPA has been testing the water since the fire and throughout the recovery. No exceedances of human recreational water quality guidelines were observed during the extensive removal of the sediment downstream of the fire site. This suggests that mobilisation of contaminants was well managed and minimised during the works. No exceedances of human recreational water quality guidelines values have been identified since shortly after the fire in 2018 and for this reason it is now considered safe to remove the precautionary signage placed along the waterway during the incident.
Working together towards rehabilitation
EPA will continue to support the rehabilitation and protection of Stony Creek and is committed to working with partner agencies on the delivery of the Stony Creek Rehabilitation Plan.
Find out more about our Tottenham industrial fire response
Subscribe to our mailing list to stay informed about what's happening at the Tottenham site.
Read next
Tottenham industrial fire: EPA's role and enforcement action
Tottenham industrial fire: Environmental monitoring and health impacts