Your business's EPA licence may include the condition 'G2 Licence non-compliance and notification'.
This means you must tell EPA right away if you don't comply with a licence condition. This includes:
any discharge to air, water or land your licence doesn't cover
an immediate threat to the environment or human health
any event that may affect neighbours or cause them to complain
any other breach of your licence.
Report licence non-compliance to us by:
If you don't have a Portal account, you must register for one. It will take up to three business days for your account to activate. You'll need to give us:
your EPA licence number
your site's details
any licence condition that you've breached
details of the incident and size of the issue
the name and number of an onsite contact person.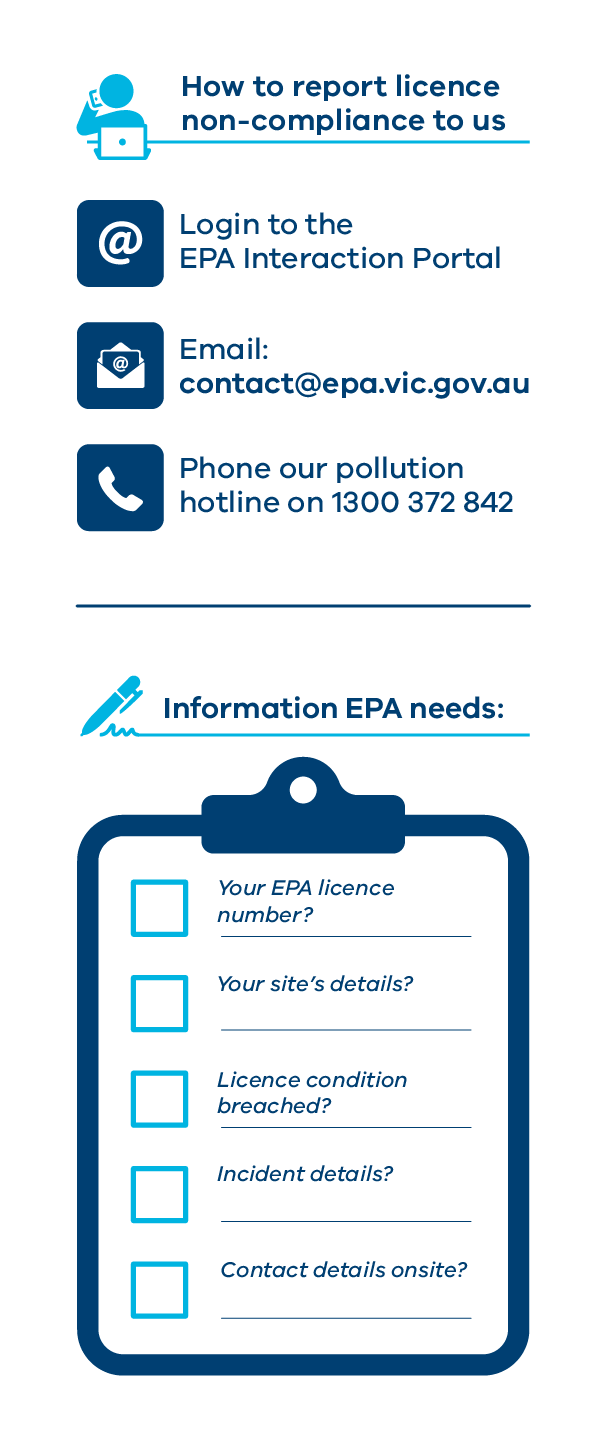 Reporting emergencies
Call 000 if the incident you're reporting is an emergency. For example, a fire or major hazardous spill. The attending service will tell us if we need to provide an emergency response.
EPA environment protection officers
Even if the incident isn't an emergency, it may still cause a negative impact on the environment. Our environment protection officers can give advice to help you clean up the site. EPA may also contact you about any follow-up needed and ways to prevent future discharges.
Further licence duties
You must manage any major environmental impact your non-compliance causes. You must also tell neighbours or other community members if your non-compliance will affect them.
Future events at your site may cause temporary licence non-compliance or public concern. You can tell us about events such as:
plant shutdowns
flaring incidents
night works.
You must record details of any non-compliance or EPA notifications.
Read more about reporting pollution
How to report litter from vehicles
How to report smoky cars and vehicles
How to report illegal waste disposal
How to report smoke in the air
How to report a banned plastic bag
Reviewed 20 December 2019