Many parts of the Victorian Goldfields were intensively mined for gold in the 1800s and early 1900s.
Various processes were used to extract gold from the rock such as crushing, washing, chemical treatment and roasting. The waste from these processes are often referred to as mine tailings or mining wastes.
Mining wastes from gold processing are a concern to human health and the environment. They can contain arsenic and lead in high concentrations. Within the Goldfields region arsenic is:
commonly found in soil above 'naturally occurring concentrations', and
often in exceedance of guideline values aimed at protecting the environment and human health.
Both metals have the potential to create a risk of harm to human health and the environment if not managed.
Mine tailings and waste are regulated as part of a mining development licence. However, in the past, these protections didn't exist and environmental damage from poor waste management practices was common. This has led to the ongoing legacy we manage today.
If you live or work in Victoria's Goldfields region:
you should be aware of the mining wastes you may encounter, and
the actions to take to protect yourself and the environment.
Types of mining wastes that can be found in the Goldfields region
Waste rock or mullock
Waste rock or mullock is often observed spread out in piles on the surface or buried below the surface. It may also take the form of large boulders. Typically, these rocks have not been processed to a degree where contaminants are at a concentration of concern.
Its presence is a sign that mining may have occurred in the area, and it is commonly found with, or near, mining sands.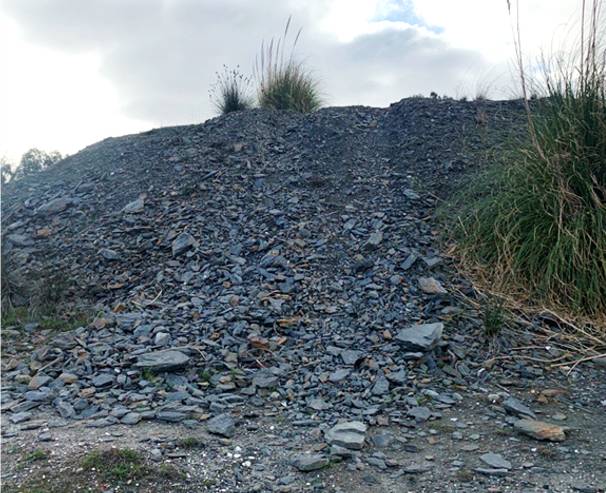 Waste rock or mullock
Mining sand
Mining sand is produced when rock has been brought to the surface and crushed. The colour is dependent on the geology of the rock. In the Bendigo region, it is typically grey in colour and has a fine particle size, similar to fine beach sand.
Mining sands have variable levels of arsenic, lead and mercury. This can create a risk of harm to human health and the environment.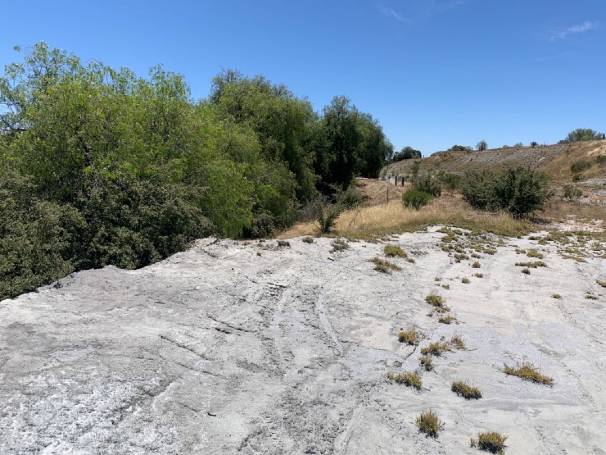 Mining sand
Calcined sand
Calcined sand has a similar texture to mining sand but has a characteristic pink-purple-red colour. The calcination process is what gives the sand its distinctive colouring and ash-like appearance. It is often easily distinguishable from the surrounding landscape due to its bright colour. Calcined sands are extremely high in arsenic and are likely to have high levels of lead and mercury, a known risk of harm to human health.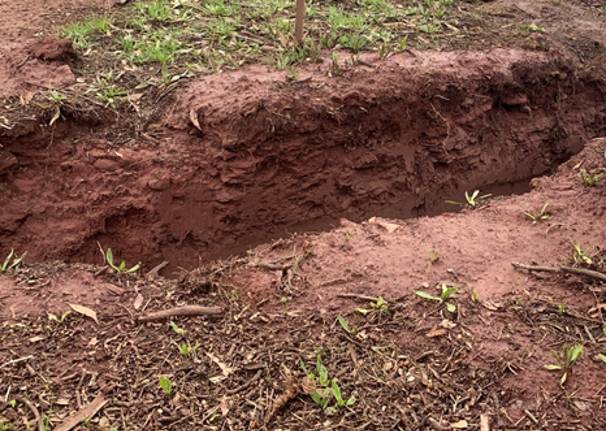 Calcined sand
What you should do if you encounter mining sands or calcined sands
If you encounter grey or calcined sands, consider the following steps:
Stop work and assess the risks, especially if you encounter calcined sands.
If you found the sands in the course of your work, follow your workplace health and safety protocols for decontamination, to protect you or your workers health. Contact WorkSafe for advice if needed on 1800 136 089.
Isolate the area with temporary fencing and record area with GPS coordinates if possible.
Cover the exposed area and any stockpiled mining sands to keep them from moving offsite.
Notify the person who has management or control of the land. This could be your project manager for the site or the resident.
Provide and maintain measures to minimise the risk of harm to human health or the environment so far as reasonably practicable.
Read next