Summary
Testing by Melbourne Airport has shown high levels of per- and poly- fluorinated substances (PFAS) at the airport. They also found high levels of PFAS in surrounding waterways, including:
Arundel Creek
Steele Creek
Deep Creek
Maribyrnong River.
PFAS are a large group of widely used manufactured chemicals.
In the past, Airservices Australia firefighters at Melbourne Airport used firefighting foams containing PFAS. In 2010, Airservices Australia started using firefighting foams that don't contain PFAS. Some airport tenants still use products that contain PFAS in their operations. Melbourne Airport is working with their tenants to phase out the use of PFAS products.
For information on the Commonwealth PFAS management program for airports visit, National PFAS Management Program. The Commonwealth is the lead authority to ensure that federally leased airports take responsibility for onsite and offsite contamination. EPA is working with the Commonwealth to ensure that the duty holder is held accountable for ongoing management of any contamination that exists.
Advice for Maribyrnong catchment
PFAS in the catchment has not affected normal drinking water supplies.
We have issued advice for people to restrict your consumption of fish from the lower Maribyrnong and Lower Yarra rivers. This is due to elevated levels of polychlorinated biphenyls (PCBs).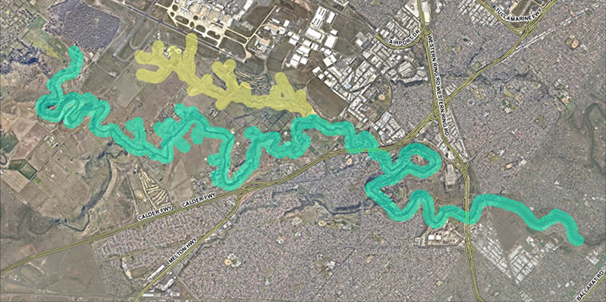 Contamination advice highlighted on the map
Section marked in green: do not consume fish taken in Maribyrnong River upstream of Solomon's Ford, Avondale Heights
Section marked in yellow: avoid fishing, swimming or using water from Arundel Creek for stock watering. Pets should also be kept out of Arundel Creek.
Advice for Arundel Creek
Arundel Creek is a tributary of the Maribyrnong River. Our testing has shown high levels of PFAS. Our advice for Arundel Creek is:
do not eat fish caught in the creek
do not swim in the creek
do not use the water for stock watering
keep pets out of the water.
Advice for Maribyrnong River upstream of Soloman's Ford Avondale Heights
We have worked with Melbourne Water to test samples of water, sediment and fish from between Deep Creek in Bulla to the Anglers Tavern in Maribyrnong. Our advice for this part of the river is:
do not eat fish caught in this part of the river
there are no restrictions on using the river for irrigation and recreation, such as swimming and boating.
Advice for lower Maribyrnong River
We have issued advice for the lower (estuarine) Maribyrnong River. There are elevated levels of polychlorinated biphenyls (PCBs), so our advice is:
Reviewed 27 September 2023