Sulfur dioxide (SO2) is a gas. Breathing it in can irritate your nose, throat and lungs.
Sulfur dioxide is a common air pollutant. In Victoria, sulfur dioxide levels are usually low. We measure sulfur dioxide at some of our air monitoring sites.
Sources of sulfur dioxide
Burning materials with a high sulfur content produces sulfur dioxide. In Victoria, the most common sources of sulfur dioxide include:
coal-fired power stations
oil refineries
shipping.
Health effects of sulfur dioxide
Breathing in sulfur dioxide can impact your health. When levels are high, you can experience symptoms shortly after you breathe it in.
Symptoms include wheezing, coughing and shortness of breath. People with lung conditions like asthma are most affected by high levels of sulfur dioxide.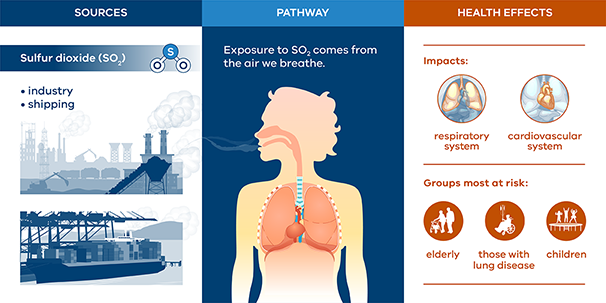 Sulfur dioxide on EPA AirWatch
We show sulfur dioxide data on EPA AirWatch using air quality categories.
| Air quality category | Sulfur dioxide averaged over 1 hour (parts per billion) |
| --- | --- |
| Good | Less than 100 |
| Fair | 100–200 |
| Poor | 200–300 |
| Very poor | 300–600 |
| Extremely poor | More than 600 |
Current standards for sulfur dioxide
We compare our sulfur dioxide data to national air quality standards.
The 24 hour national sulfur dioxide standard has been adopted into the Environment Reference Standard. Victoria has adopted a more stringent 1-hour sulfur dioxide standard in the Environment Reference Standard, bringing forward the 2025 national standard.
| National standard, in parts per million (and per billion) | Averaging time |
| --- | --- |
| 0.1 ppm (100 ppb) | 1 hour |
| 0.075 ppm (75 ppb) from 2025 | 1 hour |
| 0.02 ppm (20 ppb) | 24 hours |
| Environment Reference Standard | |
| 0.075 ppm (75 ppb) | 1 hour |
| 0.02 ppm (20 ppb) | 24 hours |
Read more about air quality
Vehicle emissions and air quality
Clean air and future air quality