Step one: Log in
Log in to the EPA portal.
Step two: Open the manage waste menu
In the 'manage waste' menu, choose the 'waste accredited consigner transport records' dashboard.
Step Three: Waste accredited consigner transport records dashboard
The search functions and filters are to the left of the dashboard.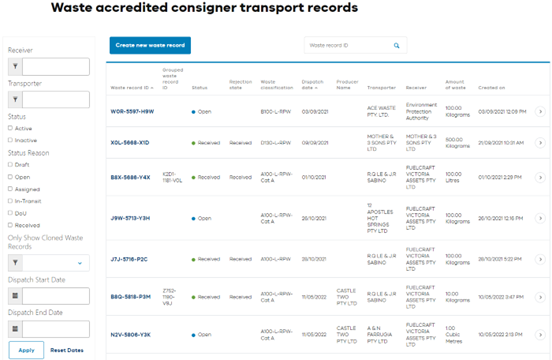 Step four: Search and filter waste records
The search and filter fields can be used to search for waste records. You can use more than one filter at once.
Receiver and Transporter filter
Enter the name of the receiver to display records assigned to that receiver or where the receiver has accepted the waste.
Enter the name of the transporter to display records assigned to that transporter.
Click 'apply'.
Tip: You can use asterisk to search for a partial name or phrase. For example, *fuel will search for Fuelcraft Victoria Assets Pty Ltd.
Status filter
Active status will display all draft, open, assigned and in-transit records.
Inactive will display all received records.
Click Apply.
Status Reason filter
Select the status of the waste record you want to find.
You can select more than one status.
Click 'apply'.
Only show cloned waste records filter
Select Yes to show all records created via the cloning function.
Select No to show all waste records.
Click 'apply'.
Tip: If you don't make a selection here, all waste records will be displayed on the dashboard.
Dispatch date filter
The dispatch date filters use the date selected as the dispatch date when the waste record was created.
To search for records created within a date range, enter a start and end date.
To search for a particular day, enter the same date into both fields.
Click 'apply'.
Read more
Reviewed 2 September 2022