The Kealba landfill is operated by Barro Group Pty. Ltd. and has a suspended licensed to accept solid inert waste. Examples of types of waste in the landfill include concrete, bricks, dry timber, plasterboard, carpet, plastic, glass, metals, bitumen and shredded tyres.
Compliance and enforcement timeline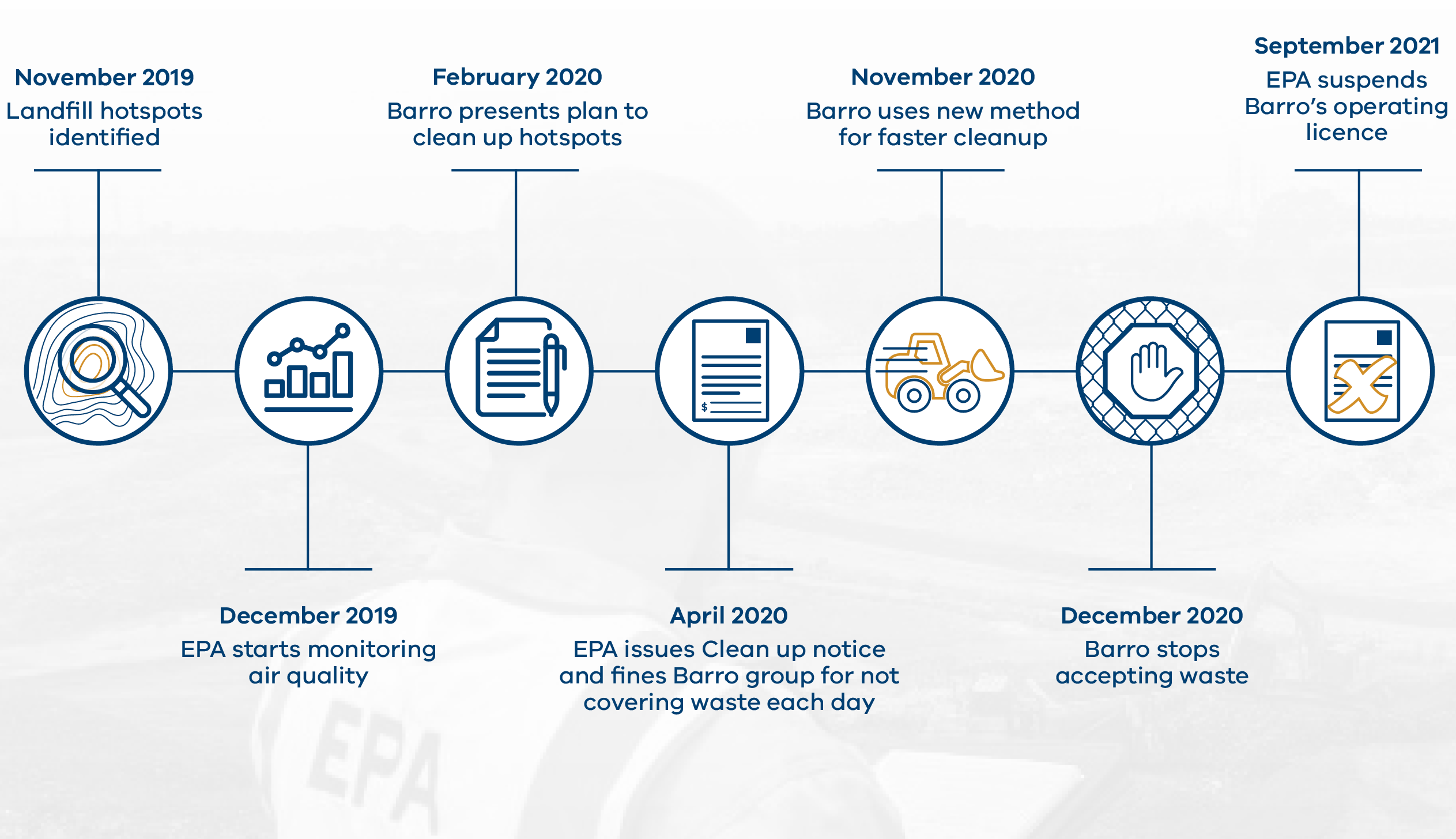 November 2019

Landfill hotspots identified. EPA issued the first of five notices requiring Barro Group (the landfill operator) to:

investigate and deal with the hotspots
monitor air quality
keep the local community informed.

December 2019

EPA commenced air quality monitoring and posted the results on EPA AirWatch.
EPA issued a Clean Up Notice to require Barro Group to investigate and clean up the hotspots. This also included doing air quality monitoring and community engagement.

January 2020

EPA issued an official warning for failing to immediately notify EPA of the hotspots within 24 hours.

February 2020

Barro Group gave EPA the results of its investigations into hotspots and its proposed cleanup strategy.

March 2020

EPA reviewed Barro Group's proposed cleanup strategy with a range of specialists including EPA's internationally recognised landfill expert. EPA found that a further Clean Up Notice would be required to strictly regulate Barro Groups cleanup operations

April 2020

EPA issued a Clean Up Notice requiring Barro Group to start the cleanup in line with its approved strategy, as well as continue air quality monitoring and community engagement.
EPA issued fine of approximately $8,000 for not applying daily cover on waste .

July 2020

EPA carried out on-site volatile organic compound (VOC) monitoring. This involves hand-held monitoring devices and thermal imaging cameras to find sources of odour and hotspots.

August 2020

EPA issued a new Clean Up Notice to continue regulation of the cleanup and to regulate a pilot trial by Barro Group that proposed to speed up remediation works through a temporary change to how they cover waste.

November 2020

After Barro Group's pilot trial, EPA issued a new Clean Up Notice to regulate ongoing changes to the cleanup strategy. It required Barro Group to produce a plan to reduce odours over the 2020/2021 holiday period and do additional community engagement.

December 2020

Barro Group announced it was voluntarily suspending any incoming waste at the landfill until the hotspots are resolved. EPA officers inspected the landfill on the final day of landfilling operations in 2020, and during the holiday period.
EPA increased compliance and enforcement activities. This included ongoing fortnightly inspections and weekly odour surveys. This was to make sure Barro Group took measures to contain odour and monitor for dust and noise.

March 2021

EPA issued Barro Group with an updated Clean Up Notice. The notice required Barro Group to:

extinguish hotspots 2, 3 and 4 by 31 May 2021
extinguish hotspot 1 by 31 July 2021
seek expert advice on how to finish their clean up sooner.
provide weekly updates to the community, including odour forecasts.

Barro Group commenced the first online weekly community information session to comply with EPA's requirement of additional community engagement.

April 2021

Barro Group submitted a report detailing its investigation into alternative hotspot reduction methods. This was to work out if any alternative methods could be used to speed up the cleanup. The investigation found that foam injection may be a suitable method, however as this method had not been tested in landfill hotspot before. A pilot trial would confirm how effective it may be. Barro Group considered how long a trial would take and the estimated time until the cleanup would be complete. Barro Group proposed to continue the current cleanup strategy, with increased operating hours.

May 2020

20 May 2021 – EPA refused an application by Barro Group to amend its Clean Up Notice to extend the deadline for cleaning up the hotspots.
31 May 2021 – Barro Group failed to fix Hotspots 2, 3, and 4 by the due date in its Clean Up Notice. EPA started an investigation into this non-compliance.

June 2021

EPA served a notice on Barro Group, on 25 June 2021, asking it to explain why we shouldn't suspend it's licence for non-compliance and causing odour impacts locally.

July 2021

The Environment Protection Act 2017, took effect from 1 July. This gives EPA increased powers to prevent harm to public health and the environment from pollution and waste.
EPA held an online community information session on 12 July, to discuss the report on the regulation of the landfill.

August 2021

EPA deployed 2 new air quality monitors on 6 August. These are in Kealba and St Albans. The air quality monitors measure particles in the local air, and the results are posted online on Airwatch.
EPA issued Barro Group with an Improvement Notice on 26 August. This requires Barro Group to take additional reasonably practicable measures to control noise at the site by 6 October 2021.

September 2021

13 September 2021 – EPA suspended Barro Group's licence to operate the Kealba landfill. The suspension took effect immediately. It means that Barro Group can't accept waste for landfill until EPA is satisfied that the operating licence should be re-instated.
On the same day, EPA also issued an Environmental Action Notice. This requires Barro Group to continue its environmental monitoring, auditing, management, and rehabilitation obligations to prevent harm to human health and the environment from the landfill. The notice requires Barro Group to:

submit an annual performance statement for the 2020/21 financial year on 30 September 2021
update its Environmental Monitoring Program by 31 March 2022
report on compliance with the notice by 30 June 2022.
What caused the hot spots
The Kealba landfill hotspots are likely to be a result of oxygen entering the landfill and combusting with old, decomposing waste. Four hotspots have been identified at the landfill, located deep within landfill cells. Two pathways are likely to have contributed to oxygen entering the landfill: the exposed, external side walls of the landfill; and the leachate drainage layer underneath the waste mass. Recent hotspot remediation works identified that oxygen likely entered cell 2 of the landfill through the leachate drainage network.
Regulatory action
On 13 September 2021, EPA suspended the Barro Group's licence to operate the Kealba landfill. The suspension relates to breaches caused by ongoing hotspots and odour impacting nearby residents. The suspension follows a Notice on Intention to Suspend Permission issued in July, alleging it was in contravention of its operating licence due to the odour impacts of the hotspots. After careful consideration of the current situation and the duty holder's response, EPA has now formed the view that Barro has significantly contravened its licence conditions. While Barro voluntarily ceased accepting waste at the site in December 2020, the suspension notice now enforces this action and opens up other avenues for regulation and sanction. Barro Group cannot start accepting waste until EPA is satisfied the contravention of its licence has been rectified. Given this suspension, EPA has also issued an Environmental Action Notice to ensure Barro Group continues to manage any risks from the landfill site.
On 26 August EPA issued Barro Group with a noise notice under the general environmental duty. The notice requires Barro Group to take practicable measures to prevent noise pollution. This includes reviewing and putting in place further controls to prevent or reduce noise from clean-up works near street level at the landfill. Barro Group has until October 6, 2021 to comply with this notice.
EPA has issued Barro Group with an official warning, for failing to immediately notify EPA of the hotspots, and an infringement notice for failing to meet a site licence condition to apply daily cover to waste.
EPA has issued five legal notices to require and regulate the progressive investigation, remediation, air monitoring and community engagement associated with this issue. Our current clean up notice remains in force and we continue to regulate this site and issue strongly with regular proactive compliance inspections, odour surveys, and enforcement where needed.
EPA is currently investigating action against the company in accordance with our Compliance and Enforcement Policy for not meeting the initial 31 May 2021 deadline. This includes assessing additional information that was submitted by Barro Group on 21 and 31 May 2021.
Environment Protection Authority Victoria's regulation of Kealba landfill (publication 1985) is a more detailed report on our regulation of the landfill, from initial approval and licensing, and the current hotspots issue.
EPA is now regulating the Kealba landfill under the new laws set out in the Environment Protection Act 2017. The new legislation provides EPA with a range of enhanced powers and regulatory tools.
EPA continues to check and enforce the current clean up notice and expects that Barro Group will continue its work to extinguish the hotspots as quickly and safely as it can in accordance with this. Barro stopped accepting waste at the site in December 2020 and made some changes to the cooling method used to try and speed up the process.
Barro and their technical specialist consultants believe the remaining hotspots may have grown and recently estimated the remediation works could still take up until May 2022 to be extinguished. EPA refused Barro's request for this extension on 20 May 2021.
Barro is undertaking another significant round of drilling works. It will ensure they understand the extent of the largest remaining hotspot and the best mix of available options to use. It will also help them to estimate how long the clean-up will take to complete and whether alternative methods, such as foam injection, can be trialled.
EPA continues to work closely with interagency partners at Fire Rescue Victoria, WorkSafe, and Brimbank City Council. EPA also considers independent advice on additional measures that can be taken to extinguish the hotspots faster and to minimise odours during the process.
We are continuing to regulate this site strongly with regular proactive compliance inspections and odour surveys.
Health information
Preventing and minimising any harm to community health from these hotspots has been the most important focus of EPA's regulation of this issue. While air quality monitoring by both EPA and Barro since December 2019 has found no issues of concern for long term community health, the odour from the site can be offensive.
EPA's review of air quality, odour monitoring and pollution reports indicate it is contributing to community distress, predominantly at Kealba and St Albans. Our noses are sensitive and often pick up odour long before there is any health risk. In most cases, odours from landfill hotspot don't impact long-term community health.
If you feel unwell or distressed:
Information for local doctors
EPA recognises how important local doctors are in providing care for local residents who may have health concerns.
We have provided local general practitioners (GPs) with health information for Kealba odour issues. We have also provided GPs with details on, community concerns and where they can get more information.
Air quality
Air quality monitoring by both EPA and the landfill operator has found low risk for long-term community health. EPA expects this to continue but still requires the company to continue its air monitoring at the site.
EPA has heard community concerns in relation to air quality monitoring associated with the Kealba landfill. EPA has deployed two new air monitors in Kealba and St Albans. These monitors provide local residents with hourly data for particulate matter around the Kealba landfill site. The safety and wellbeing of local residents is a priority for EPA.
EPA's air quality information and easier access to health messaging is available on EPA AirWatch.
Results of air quality monitoring by the operator will continue and results can be found at the Sunshine Landfill website.
Community engagement
EPA is working with the community to design future forums and ongoing engagement. We want to make sure that we provide you with relevant information through appropriate channels.
Barro Group continue to hold their regular online community information sessions. You can get more information on their Sunshine Landfill website.
EPA will not be attending Barro's information sessions while current legal processes are underway.
What to do if you experience odour
You can report excessive odour to our 24-hour hotline – 1300 372 842 (1300 EPA VIC).
We have published an odour diary (F1019) that you can use to record your observations of odour. Please send updates at least weekly to contact@epa.vic.gov.au.
If you feel unwell or distressed:
Further information
General
Barro Group (Barro) held an EPA licence (currently suspended) to operate the landfill which allows them to accept "solid inert waste". This type of waste typically arises from commercial, industrial, building and demolition activities.

Examples of types of waste in the landfill include concrete, bricks, dry timber, plasterboard, carpet, plastic, glass, metals, bitumen and shredded tyres.

Barro cannot regain its licence or start to accept waste until EPA is satisfied the breach of its licence has been fixed.

In April 2021 Barro advised residents that they intend to continue landfill activities at the site after the remediation of hotspots is completed. Based on the landfill's current capacity and available airspace, Barro estimates a further ten years of landfilling could occur at the site.

Barro estimates the closure date of the current landfill cells is June 2026 and would need to apply to EPA for any additional cells beyond that. This estimate is based on the historical rate that waste has been deposited at the landfill.

EPA has suspended Barro's licence to operate the Kealba landfill due to breaches caused by the long-running hotspots at the site and odour impacting nearby residents since November 2019. Barro cannot regain its licence or start to accept waste until EPA is satisfied that Barro's breach of its licence has been fixed.

EPA licences do not have an end date, however under the new laws commencing on 1 July 2021, licences will be reviewed every 5 years. As part of any review, EPA will need to be satisfied that the site no longer poses a risk to human health or the environment if it is to continue operating.

From 1 July 2021 EPA will commence amending all operating licences to bring them in line with the new environmental protection framework. In consultation with duty holders, EPA will determine which conditions will be amended, added or revoked. This transitional review is expected within 2021.

Barro Group's response to current clean-up notice is a material factor that EPA will consider in relation to ongoing operations at the site.

EPA and Barro continue to provide information online and engage with local residents and our partners at Brimbank City Council.

You can find out the latest information in a range of ways that best suits you:
Reviewed 29 September 2021