Status

Active

Incident Date

30 August 2018

Locations Affected

Western metro
Key Messages
On 30 August 2018, there was a large industrial fire in Tottenham. The fire broke out at a warehouse at 420 Somerville Road (the site). People sometimes know this fire as the West Footscray industrial fire.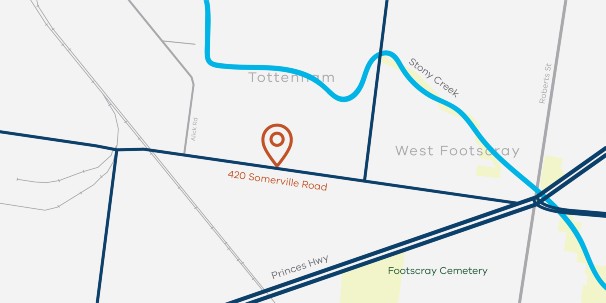 Map of location of the site where the fire broke out in 2018
How the Tottenham industrial fire impacted Stony Creek
During the incident contaminated firewater from the fire site flowed into nearby Stony Creek. A range of chemicals entered the creek.
These included:
hydrocarbons
acetone
herbicides
heavy metals.
Plants and animals died as result of contaminated firewater runoff. This included about 2,500 fish deaths in the creek and estuary.
Today, the creek is now safe again for recreational water use.
How EPA responded to the Tottenham industrial fire
EPA's role is to prevent harm from pollution and waste to the environment and human health. We enforce the law to hold polluters to account.
EPA was a support agency while the fire was burning. We monitored the local area's air and water quality. We also informed emergency personnel about risks to human health from the fire. Our role on the site is to:
investigate if any of our laws were broken
a member of the WorkSafe-led takskforce that is removing industrial waste, including dangerous goods, from the fire site.
support WorkSafe with advice on environment and health risks.
EPA has laid a combined total of 34 criminal charges as a result of our enforcement investigations. These charges include the strongest charges EPA has at our disposal under the Environment Protection Act 1970 in place at the time.
Ongoing legal action
EPA's work with the site owner, WorkSafe and Melbourne Water is ongoing. This willensure the site is safely managed and harm to people and the local environment are rectified.
Multiple legal processes are underway relating to this fire, its cause and any ongoing impact.
EPA may also issue notices under the Environment Protection Act 2017, requiring people or organisations to investigate the nature and extent of harm or risk to human health and the environment from contamination.
Once issued, the recipient must provide reports to EPA detailing the outcomes of the investigation for assessment, which will in turn inform any further remediation action that may be required.
Failure to comply with such notices, can make the recipient guilty of an offence. In similar cases a penalty of up to $21,808.80, (for an individual) or $109,044, (for a body corporate) will apply.
If the recipient is unable to meet EPA's requirements, enforcement action is pursued to hold them to account and ensure environmental and public safety.
At the time of publishing, EPA is not in a position to comment on any litigation matters relating to this issue.
How EPA worked to restore Stony Creek near the Tottenham industrial fire site
Since the fire, EPA has worked with other agencies to remove approximately 2,800 m3 of contaminated sediment from Stony Creek.
In September 2018, Maribyrnong City Council became lead agency for the recovery phase. Stony Creek recovery efforts are complex. They need careful planning to ensure community safety.
Cleanup works have included:
assessment of soil and sediment of the creek banks and bed
scraping creek banks to remove fire-related contamination
pressure-washing rocks and plants to remove sludge
removing affected trees and shrubs
installing barriers in the creek to capture contaminants
removing of contaminated sediment from Stony Creek.
Maribyrnong Council has more information on the Stony Creek Recovery phase. Melbourne Water has information on the Stony Creek Rehabilitation Plan.
A WorkSafe-led taskforce oversaw the removal of industrial waste, including dangerous goods, from the fire site between November 2019 and 2021. The taskforce included EPA, emergency services and local government.
EPA's role in the taskforce was to:
assist with waste classification, treatment and disposal
provide appropriate approvals
make sure that the surrounding environment is not impacted by the cleanup.
The site's stormwater drains remain plugged so that no onsite stormwater leaves the site . EPA oversaw safe removal of contaminated silt and sediment from Stony Creek downstream from Paramount Rd. These immediate recovery and remediation works from the fire are now complete and it's time to focus on the long term rehabilitation of the waterway.
EPA will continue to support the rehabilitation and protection of Stony Creek and is committed to:
working with partner agencies on the delivery of the Stony Creek Rehabilitation Plan
liaising with the site owners to ensure their environmental obligations are met.
Protecting community health at Stony Creek and around the Tottenham industrial fire site
Industrial waste and dangerous goods still onsite pose a low risk to human health and the environment if managed the right way.
EPA tested the water from immediately after the fire and throughout the recovery works until 2020. Test results show impacts were limited to soon after the event and the area is again safe for our community to enjoy as before. For this reason, the health warnings that were along the waterway during the incident were removed in 2020.
Test results show waste chemicals onsite contain:
large amounts of solvents (for example acetone and cyclohexane)
hydrocarbons
pesticides (terbutryn)
PFAS
metals
plasticisers (phthalates, monophenyl ditolyl phosphate II). A plasticiser is a substance that makes materials flexible and easier to handle.
Testing has helped inform WorkSafe's cleanup plan and make sure any onsite work doesn't release harmful chemicals. It has also helped inform EPA's regulatory notices requiring ongoing investigation works by the site owner.
Find out more about our Tottenham industrial fire response
Subscribe to our mailing list to stay informed about what's happening at the Tottenham site.
Reviewed 30 November 2021