Any person that is responsible for e-waste must assess the risks of harm to human health and the environment and take steps to eliminate or manage the risks.
Your understanding and management of risk is crucial. Assessing and controlling risk in a structured way will help ensure that your storage, transport and/or reprocessing of e-waste:
prevents harm to human health and the environment
complies with your legal obligations
meets community expectations.
Use Assessing and controlling risk: a guide for business (publication 1695) as a starting point to develop your understanding of the risks at your site and the controls you need in place to manage e-waste at your site. The guide also contains useful resources like a hazard and risk register template and an example of a risk matrix to help you assess risks.
Management and storage of combustible recyclable and waste materials - guideline (publication 1667) provides practical information on how to control fire hazards and risks for e-waste processing.
You may identify that you need bunding to manage the risk of ground contamination from e-waste liquid components, including heating and cooling equipment or batteries. See Liquid storage and handling guidelines (publication 1698) for more information about how to eliminate or reduce the risk of contaminating land, surface water and groundwater.
There are four basic steps your business needs to follow to control hazards and risks present in the storage of e-waste: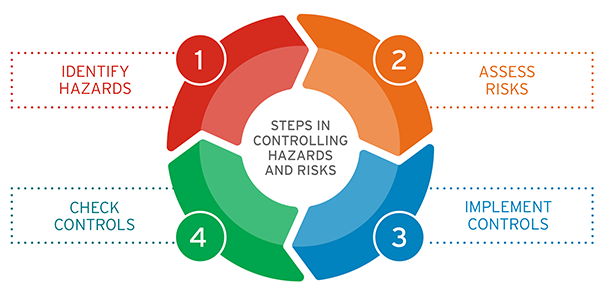 Your implementation of this process should be proportionate to the amount of e-waste your business stores and the type of e-waste service you provide.