Drivers can pick up, drop off or reject waste in the Waste Tracker app. This guide explains how to drop-off waste.
Step one – Log in
Log in to the EPA portal mobile app.
Step two – Waste driver work list
Once you login you'll be taken straight to the Waste driver work list home screen. You'll see a list of all your waste records.
Click the Active records tab to view all active individual waste records.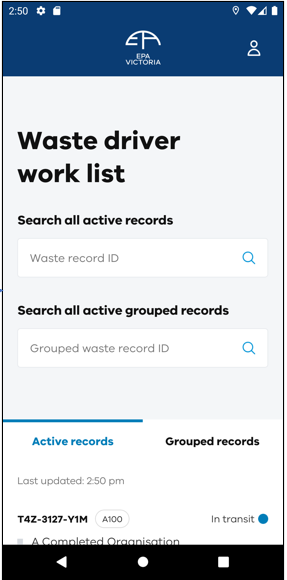 Tip: You can also use the search bars to search for all active records, including individual and grouped records.
You can use the search bar even in offline mode but the waste records visible will be dependent on when the app was last synced.
Step three – Select individual waste record to drop off
Select the active individual waste record you would like to drop off.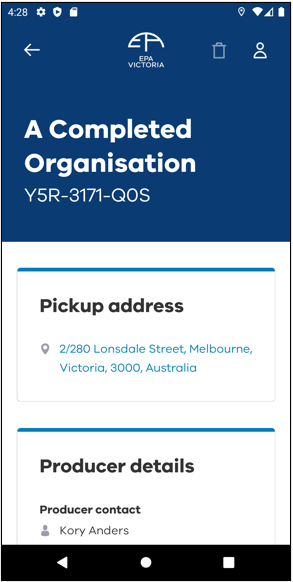 Step four – Confirm you understand data collection by EPA
Review the record and tick the box to confirm you understand that EPA collects the information you enter about the pick-up and drop-off of this waste load.
Scroll to the bottom and click Drop off waste.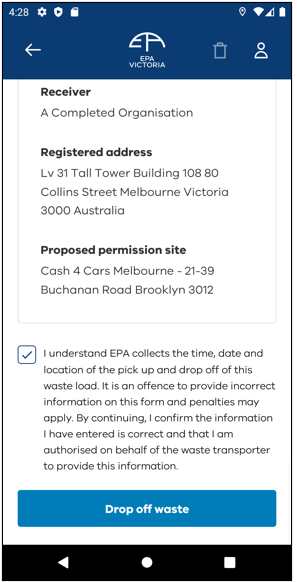 Step five – Drop off warning notification
A warning notification will appear to check whether you want to drop off this waste.
Click Drop off to confirm.
Step six – Confirmation
A confirmation screen will appear to confirm you've dropped-off the individual waste record.
Click Return to homepage.
You'll see the waste record has been removed from the Active records list.
Read more