The amended Environment Protection Act 2017 (the Act) will change how Victoria regulates pollution, waste and contamination from businesses. It signals the start of a fairer, more balanced era of environmental regulation for Victorian businesses.
The Act will come into effect on 1 July 2021.
Preparing Victorians for new laws
The Act aims for fairness for people who run their business legally. It will strengthen our powers to investigate businesses. There will also be large increases to penalties for rogue operators.
This means EPA is now preparing engagement activities and communications to help you meet your obligations under the new Act.
We call our plan the Readiness Roadmap. It provides timeframes for:
key engagement activities
key publications
critical milestones to help Victorians prepare.
Its purpose is to show you, what activities we'll be doing and when, to help you prepare.
Readiness Roadmap to the new Environment Protection Act
Who the Readiness Roadmap is for
The Readiness Roadmap is for all of EPA's stakeholders:
The Victorian community. This includes citizens, community groups and traditional owners.
Industry. This primarily means those that will need an EPA permission to operate. It includes people who hold a licence, permit or registration with EPA or will need to in future. We also recommend you check the business tabs below for other relevant information.
Businesses. This means all businesses who have obligations under the Act. For example, businesses such as restaurants, mechanics, hairdressers and others that may not necessarily need an EPA permission to operate.
Government. This includes local councils and government departments.
How to use the Readiness Roadmap
The Readiness Roadmap is divided into quarters. Each quarter represents a period of three months.
The images below list the key ways in which EPA will engage with the community, business, industry and government. The drop-down lists below each image have more information. This information will have details about each of the items in the image, plus more items happening within that three-month timeframe.
The Readiness Roadmap is a live document. This means it will grow and change. We will update it regularly.
Find out more about what happened from October to December 2020
In this quarter the main focus of EPA's engagement activity will be building understanding of the new laws. This includes the new Act and the Regulations that will support them.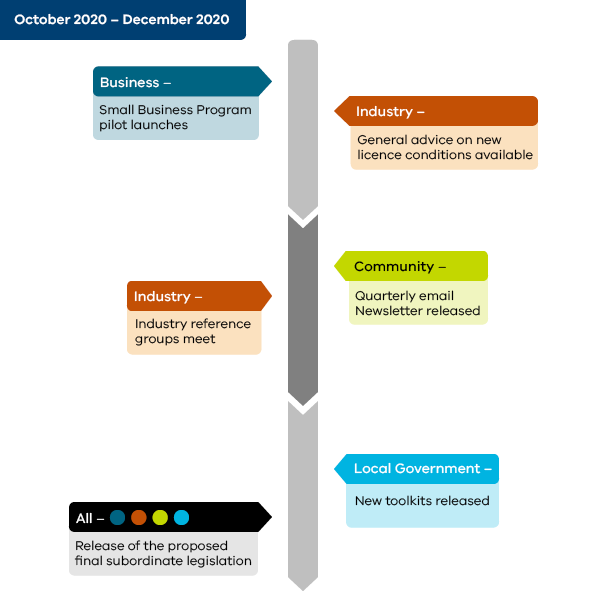 Find out more about what happened from January to March 2021
In this quarter EPA's main focus will be guidance to help explain more specifics. This includes the new framework, how EPA will enact the law and how obligations and processes are to be met.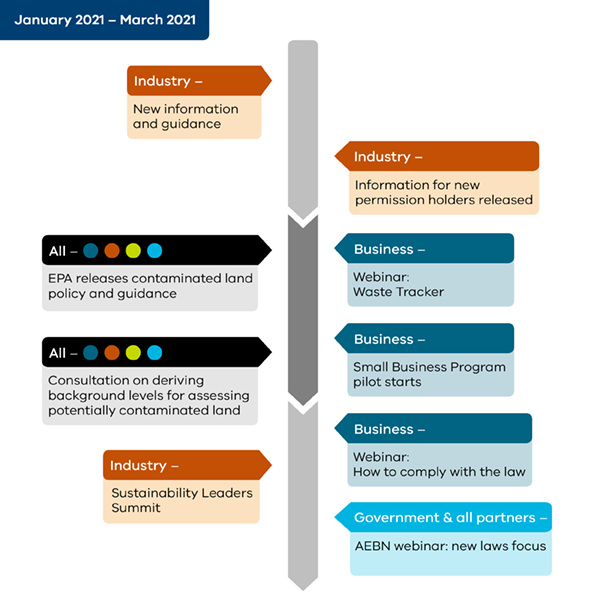 Find out more about what's happening from April to June 2021
In this quarter EPA's main focus will be onboarding users to new systems, providing details of transition arrangements, and providing specific guidance for new systems and processes that EPA will be using under the new Act.