Fishermans Bend is Australia's largest urban renewal project, covering about 485 hectares in central Melbourne. The district will consist of five precincts across two municipalities – the cities of Melbourne and Port Phillip – and connect Melbourne's CBD to Port Phillip Bay. It is expected that by 2050 it will be home to about 80,000 residents and provide employment for up to 80,000 people.
Following an extended period of community consultation, the Victorian Government released the Fishermans Bend Vision in September 2016. The next step in planning for the area is the release of the Fishermans Bend Framework, which is supported by a series of expert background reports. Public consultation will take place on the framework and associated planning controls – further details are at www.fishermansbend.vic.gov.au
Following this is the development of five precinct plans that will detail how the strategies in the framework will be applied to each of the Fishermans Bend neighbourhoods.
EPA's role in Fishermans Bend
Environment Protection Authority Victoria (EPA) provides comments on the environmental aspects of selected planning applications for proposed developments in Fishermans Bend. EPA is also providing assistance to the Fishermans Bend Taskforce with some of the background reports.
As part of this, EPA has overseen groundwater studies across Fishermans Bend since 2015.
Groundwater studies in Fishermans Bend
The Fishermans Bend groundwater studies were conducted between 2015 and 2017, across the five precincts of Fishermans Bend, as part of the proposed redevelopment. The studies focused on confirming the depth of groundwater and the regional groundwater quality. The studies aimed to understand the regional groundwater quality, and therefore did not focus on specific sources of contamination. Some contamination was identified that will need further assessment through the audit system or as part of EPA's regulatory role as development proceeds.
In order to make the results of the groundwater studies accessible to all, EPA has produced two plain English documents:
Technical reports for part 1 of the groundwater studies (over the original four precincts; Lorimer, Wirraway, Sandridge and Montague):
Technical reports for part 2 of the groundwater studies (Employment Precinct, and groundwater monitoring event (GME) over all five precincts):
Aerial view of the Fishermans Bend precincts: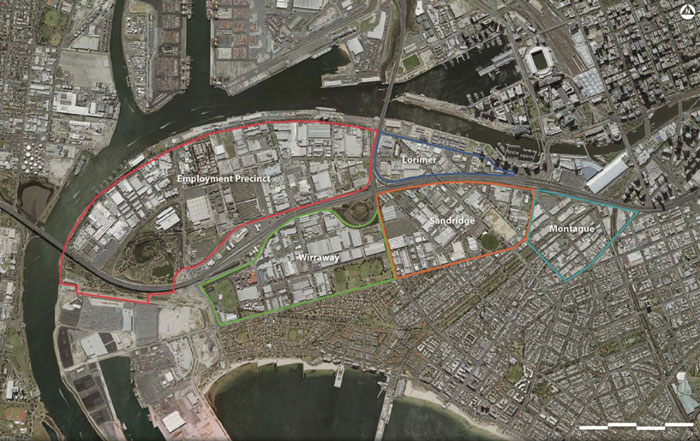 Key planning and environmental legislation and policies that apply in Fishermans Bend
A selection of key planning and environmental protection legislation and guidance documents are as follows:
The environmental challenges at Fishermans Bend
Historical industrial practices often present challenges when planning to develop land for residential and sensitive uses. This is no different with the proposed medium-to-high density residential development at Fishermans Bend.
Victoria's environmental audit system, in place since 1989, is triggered when there is a change of land use to a more sensitive use, as will be the case with Fishermans Bend. The environmental audit system is used by planning authorities, government agencies and private landowners to determine the condition of a piece of land and its suitability for use, or to determine what's required to make the land suitable for its intended use. The process is typically applied on a property-by-property basis.
Groundwater investigation is usually undertaken as part of the audit of each property in urban areas. Groundwater quality beyond individual properties is affected by regional-scale infilling (where old waste was used to fill in former swamps to create flat ground – as has occurred historically in Fishermans Bend), as well as past industrial uses conducted in accordance with standards of the time. An extensive investigative approach is needed to develop a complete picture of groundwater across the entire Fishermans Bend area, which is why EPA undertook the studies.
Read next
EPA's past programs and projects
This page was copied from EPA's old website. It was last updated on 23 August 2019.