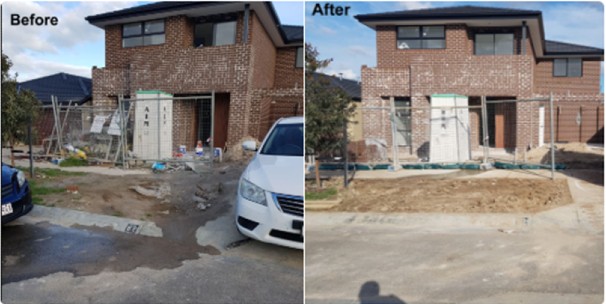 In July 2019, the Casey OPLE conducted proactive inspections in residential estates in Clyde investigating littering and poor housekeeping practices on construction sites in the area.
"At one site I found that sub-contractors were washing their tools at an onsite tap at the front of the property. This was causing plaster and premix concrete slurry to run out of the premises and into the stormwater system," said the Casey OPLE.
They also observed an uncovered stockpile of sand placed on the premise's driveway, which sloped downward toward the street gutter. Foot traffic around the site, as well as rain was expected to cause sediment run-off from this pile, which also had the potential to enter the stormwater system.
The OPLE provided compliance advice to dig a small sediment pond around the tap to keep any wash water onsite, and to cover the stockpile with a tarp to avoid it getting wet and causing run-off. Additionally, they advised the site manager to install a sediment sock barrier, a kind of temporary bunding, around the premises perimeter to capture and prevent run-off from the site.
"Because of the short-term nature of residential building projects, we focus on supporting businesses to comply with their obligations, rather than leading with harsher regulatory action. We also focus on providing advice for quick-fix solutions that are not too onerous but still achieve effective environment protection outcomes."
The OPLE reported that during this proactive inspection campaign they observed similar concerns at several other sites they visited. Where they saw particularly poor site practices and litter coming off-premises, they referred this to the local Casey Litter Enforcement Officer for immediate regulatory action. In this case, the OPLE was able to work with the council officer to have a notice served on the spot, sending a clear message about the kinds of standards expected from residential building companies.
Read more OPLE case studies
Solving odour issues in Dandenong North
Preventing litter from Surf Coast building sites
Reducing commercial noise in Port Phillip
Protecting waterways in Wyndham
Keeping community safe from waste in Loddon
Preventing stormwater pollution in Dandenong
Protecting stormwater in Brimbank and Hobson Bay