Project history
On Monday 28 March 2022 EPA started operations to remove about 1200 intermediate bulk containers (IBCs) of liquid chemical waste stored at David Barry Logistics' (DBL) Dandenong South facility.
These IBCs contain about 1000 litres of liquid each and were relocated to DBL from the former Bradbury Industrial Services chemical facility in Campbellfield in 2018 and also from an unlicenced warehouse in Campbellfield in 2019.
Following a fire at Bradbury's Campbellfield site in 2019, Bradbury went into liquidation and disclaimed interest in the IBCs.
We stepped in to oversee the clean up using our powers under the Environment Protection Act 2017.
We recognise the potentially serious risk to the community and the environment from the stored chemicals.
EPA has the expertise, capability and proven record to conduct this clean up safely and efficiently.
Clean up works
Our contractor mobilised onsite on Monday 28 March 2022 and started operations to remove the IBCs on Friday 1 April 2022.
The contractor has been transporting the IBCs to an EPA licensed co-processing facility in Victoria, where the liquid chemical waste will be co-processed in cement kilns for treatment and disposal.
We've now removed 735 IBCs and an additional 427 IBCs have been sampled and triaged, ready for disposal.
The removal process is expected to take until 30 June 2022.
The liquid chemical waste is being sampled and classified prior to its removal in the IBCs, and all waste will be tracked to its destination by EPA.
Some of the IBCs are in poor condition. Waste in these containers may need to be safely decanted into appropriate vessels prior to transportation.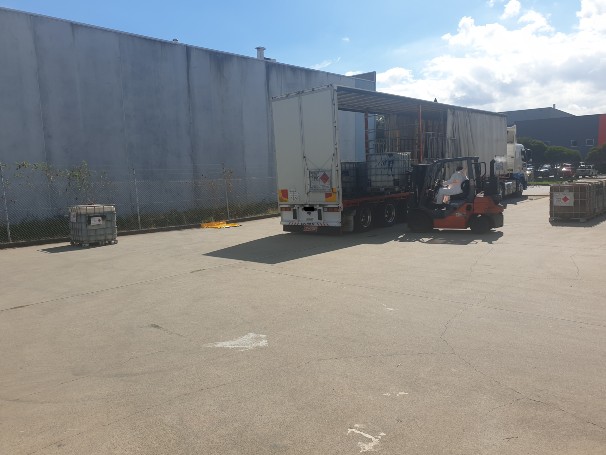 Figure one: the first truckload of IBCs being removed from David Barry Logistics.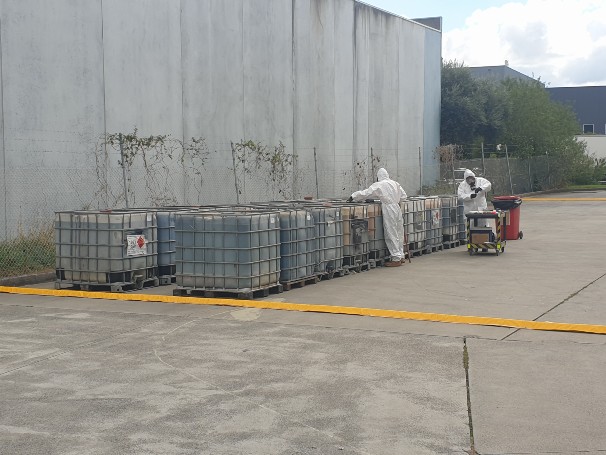 Figure two: sampling of IBCs prior to removal.
Protecting the community and environment from offsite impacts
We're working closely with DBL and the contractor onsite to ensure removal works are carried out safely and with minimal impact to the community, local businesses and the environment.
Working together
We established an interagency operations team to minimise risks to the community and the environment through coordinated action.
The team includes representatives from Fire Rescue Victoria, Greater Dandenong Council, Department of Environment, Land and Water (DELWP), WorkSafe, and Melbourne Water.
We're working together to minimise risks and keep the community and the environment safe.
Contact us
For more information about the project call us on 1300 372 842 or email contact@epa.vic.gov.au.