About the Drain Detectives program
The purpose of the two-year Drain Detectives project (2018–20) was to:
trial innovative, low-cost approaches such as citizen science and open-source sensors to monitor dry weather flows in drains
better understand and inform management of stormwater drains posing the highest risk to beach water quality in Port Phillip Bay.
Drain Detectives monitored beaches in:
Sandringham
Black Rock
Beaumaris
Mentone
Mordialloc
Canadian Bay
Dromana
Rosebud
Rye
Blairgowrie.
The Victorian Government's Port Phillip Bay Fund funded the Drain Detectives program. EPA Victoria led the program.
The Drain Detectives program ended in April 2020.
How Drain Detectives monitored and protected our beaches
Type of monitoring
Pollution from stormwater drains can affect water quality at our beaches. Drain Detectives helped to determine the extent of drain flows during dry weather at ten beaches. To do this, multiple ways of recording data were used:
The general public took photos and observations of stormwater drains using a data collection platform from their smart phones. The photos showed the drain flow, and observations of depth, colour and odour. Drains where we were recording observations were marked with a sign.
Trained citizen scientists did a simple water quality test for ammonia at the same time as they recorded observations. Ammonia is a broad indicator of faecal pollution.
Water quality and depth sensors installed in storm water drains leading to the beaches were used to supplement citizen science data.
These chosen beaches were known to have water quality that didn't always meet the standards for swimming. The project ran during summer when people were most likely to use beaches.
The program detected two drains with regular dry-weather flows using data from citizen scientists.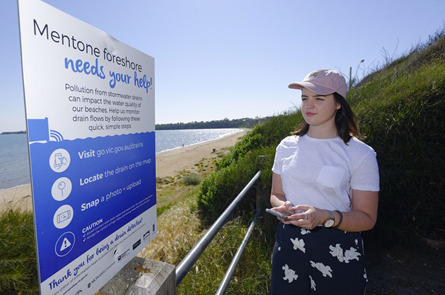 Reporting platform and sensor equipment
The platform used by Drain Detectives for data collection was Survey123 for ArcGIS. At each beach, signs at the carpark, and as close as possible to the drain prompted beach goers to this online data collection platform.
We used the following sensor technologies for the Drain Detectives program. The sensor housing, testing and development, installation and maintenance was managed by Monash University (www.bosl.com.au).
Sensors were installed by Monash University in drain pits upstream of drain outlets to the Bay. The selected pit had to be accessible (for example, not on a road and not locked) and at a higher elevation than the drain outlet to avoid saltwater intrusion (tidal effect).
Hardware
Model
Purpose
Absolute pressure and temperature sensor
Sparkfun

MS5803-14BA

Depth measurements
Absolute pressure and temperature sensor
Sparkfun

MS5803-14BA

Temperature measurements
Electrical conductivity sensor
Monash University
Conductivity measurements
Arduino board
TinySine

Tosduino UNO R3

Controller/data logger
3G/GPRS/GSM shield
TinySine

SIM5320E

Data transmission
7.2V 10.05Ah high-capacity Li ion rechargeable battery
Panasonic

LICB-18650-2S3P-HC-R

Power supply
Occupational health & safety
In-person group training of citizen scientists was conducted at beaches. A refresher training was provided for citizen scientists through a training video in the second year.
Occupational Health & Safety (OH&S) guidance and personal protective equipment (PPE) requirements were provided to trained citizen scientists in their instruction sheets for monitoring.
OH&S prompts were included in the data collection platform that citizen scientists needed to acknowledge before collecting data.
For more information about the Drain Detectives program, contact our Recreational Water team.
Thankyou to our partners
Organisational partners
Monash University
Port Phillip Ecocentre
Melbourne Water
South East Water
Bayside City Council
Mornington Peninsula Shire
City of Kingston
Life Saving Victoria
Community partners
1st/14th Brighton Venture Scouts
Cheltenham Secondary College
Dromana Beach Patrol
Hampton Sailing Club
Kilbreda College
Rye Beach Patrol
Rye Yacht Club
Sandringham Beach Patrol