Thursday, 12 November 2020. 2:00 PM to 3:30 PM
Video transcript
DR ANDREA HINWOOD:
Well hello everyone. It's my pleasure to welcome you online today to EPA Victoria's last Environmental Seminar Series for this year, and this seminar is on using citizen science to understand the environment with our special guest today Dr Erin Roger. I'm Dr. Andrea Hinwood Victoria's Chief Environmental Scientist at EPA Victoria. I'd like to begin by acknowledging the Aboriginal people as the First Peoples and traditional custodians of the land and water on which we live work and depend, and I pay my respect to Aboriginal Elders past and present. As Victoria's environmental regulator we pay respect to how country has been protected and cared for by the Aboriginal people over many tens of thousands of years. And we recognise the unique spiritual and cultural significance of land, water and all that is in the environment, and their continuing connection and aspirations for country of Aboriginal people and traditional custodians. And it is my privilege to be coming to you today on Boon Wurrung country. So, thank you for the opportunity of being able to do that. A few notes on this livestream event. We have actually got used to this particular medium of delivering seminars and webinars. But please be patient if we have any technical difficulties, we'll try to deal with them as quickly as possible. The structure of today's event will feature the introduction by myself and then a presentation by Dr Erin Roger and then we've got some time for questions and answers and conclusion. This event will be recorded. So if you need to leave early or miss parts of it you can actually watch it again via EPA's website. The session has live closed captions to ensure it's accessible for everyone. Given that we'll be providing time at the end of the presentation for a Q&A. We welcome people to please provide their questions in the questions box at the bottom of the screen.
So if you look at your screen you'll have a bar and then there should be a little icon that's got Q&A with a question mark in it. That's what you use to actually place your questions and you can do that from any time that it opens and hopefully from now onwards. If we don't get to all of your questions and we will try, please provide your contact details and we'll provide a response after today's session. So today we're here to discuss using citizen science to understand the environment. In Victoria and everywhere, I know we've got a lot of international people listening in on today's session. We know all over the globe we're seeing changes to our environment. We see the changing climate and we see an evolving industry profile the way we work a whole range of different aspects and we're actually faced with more complex environmental and human health challenges. EPA Victoria is this state's environmental regulator of pollution and waste and part of our role is to equip everyone to identify, understand and respond to these challenges in the future. And I guess this is why citizen science becomes really important because it involves public participation and collaboration in scientific research and from my own perspective if we actually understand the problems we're trying to resolve which requires science then we're actually gonna be much better at finding the solutions to some of these complex issues. EPA's citizen science program aims to create empowering opportunities for the community to actively engage in the applied science behind EPA's scientific and regulatory decision making. Our objectives are to co-create science with community, foster innovative science and to build scientific literacy. To achieve these objectives we've got a robust and adaptive method for citizen science and we use best practice based on the Australian Citizen Science Association ten principles of citizen science and we utilise our knowledge and experience from past projects and we align with EPA's organisational and applied science priorities. Each year we receive numerous requests for environmental research and monitoring throughout Victoria and it's not possible for us to undertake environmental monitoring everywhere but engaging in citizen science can actually expand the data we collect, the locations that we include. But more importantly local knowledge of a region and local knowledge of the environmental issues and problems that we're actually trying to address. We employ a collaborative citizen science model and we aim to actively involve community members through the scientific process. Our approach incorporates co-design, co-monitoring and co-interpretation so that there is a shared understanding between EPA and the participants of any citizen science project. Since 2015 over 562 Victorian citizen scientists have worked with EPA and if you're online today. Thank you very much. To better understand the local environment. And this has included things like monitoring local waterways, co-designing air monitoring networks with air scientists, collecting data on flows from beach drains, studying the movement and sources of dust in the Latrobe Valley. At the moment we've got citizen scientists from across Victoria collecting sediment samples contributing to a zinc mapping study. We've got communities from Bendigo and inner Melbourne working with us on air quality using sensor networks, and in the Yarra ranges we've got a community who are helping us to understand the smoke impacts and the options for management in their particular area. As we come out of our restrictions we've spent a significant amount of time in our local environment and of course we're spending more time exploring our neighbourhoods, local waterways and beaches. And I'm sure like many of you listening today you've come to actually get to know your local area pretty well.
So citizen scientists have the potential to create a network of eyes and ears in their local neighbourhoods. When it comes to environmental research the potential of this network to expand our scientific understanding is just phenomenal and empowering citizen scientists to undertake research and monitoring of the environment has benefits for all participants in the process but also the wider Victorian community. What do they say? A problem shared is a problem solved, and a problem understood where we've got all engaged is really important. EPA's air monitoring projects in particular have delivered additional air data that can assist community members in being aware of the air environment and taking measures to protect health, for example. In our water monitoring projects data has been collected that can help us identify pollution sources and actually helps inform our regulatory function. Citizen science can also contribute to more informed decisions about the way to prevent impacts. And as I noted before, it helps sharing knowledge and approaches to environmental stewardship. So on that note, it gives me great pleasure to introduce our guest speaker Dr Erin Roger. Dr Roger is the Citizen Science Program Lead for the Atlas of Living Australia (ALA) based in Sydney and work for CSIRO. The citizen science program at ALA aims to deepen existing partnerships build on new collaborations and deliver a strategic approach to citizen science nationally. Dr Roger has worked in climate change adaptation and has a PhD in terrestrial ecology. She is the chair of the Australian Citizen Science Association the mission of which is to advance citizen science through sharing of knowledge, collaboration, capacity building and advocacy. Erin works with nine committee members to provide strategic direction to the association. Recently the Australian Citizens Science Association has been at the forefront in assisting the citizen science community in helping respond to the bushfire crisis that we experienced over summer. For Science Week this year Dr Roger co-authored an article in the conversation with Australia's Chief Scientist Dr Alan Finkel expanding on the role of citizen science in response to Australia's bushfire crisis. I'd really encourage you to read this piece in that in the conversation which is easily accessible on the web. Dr Roger has a wealth of experience and knowledge and I'm sure you'll be joining me virtually in welcoming her today. Erin take it away.
DR ERIN ROGER:
Thank you so much for that that warm introduction. It's a real privilege to be here today to talk about citizen science something that I'm really passionate about and something that has seen a real uptick in the past year in particular and really pleased I am. Next slide please. And I'd also like to acknowledge the Traditional Owners I'm joining you today from Gadigal land of the Eora Nation and I'd like to pay my respects to Elders past, present and emerging. And next slide please, thank you.
So over the next 45 minutes or so I'll be providing a bit of context and relevance about citizen science, as well as a bit more background about the association, discuss Australian policy alignment as well as a brief snapshot of investment in citizen science so far in Australia.
I'll delve into a little bit more about the bushfire response and that was alluded to earlier by Andrea. But the association was absolutely overwhelmed during the bushfires with people globally wanting to help out. So I'll touch on a little bit about that movement and response, provide some other examples. The citizen science projects that are active in Australia. Touch a little bit on best practice citizen science. So what we've learnt to date some of the challenges still facing that space but end on a high note with all the opportunity some of which were touched on your introduction and followed by some Q and A and discussion which I'm really looking forward to. So I'm the chair of the Australian Citizen Science Association. We had our fifth birthday this year. These are some of the management committee meetings. We have an annual strategic planning day and this snapshot was actually taken near the beginning of March. So a few of us were in person but many joined from online and I think online events have been the way forward certainly over the past nine months or so. So we have a management committee but we're also privileged to have chapter chairs and the chapters just are our eyes and ears on our regional locations. So we have chapters in South Australia, Victoria ACT and region and Queensland at the moment and always looking for leads from other jurisdictions throughout Australia. And together we come and we discuss citizen science more broadly and set the objectives of the association. And ACSA really is here to support and reform and help develop citizen science. We see ourselves as an advocacy and a knowledge sharing collaboration and capacity building association. This is a quick snapshot of our breakdown in terms of membership.
So we're privileged to have 24 organisational members of ACSA as well as individual members and those are some stats over the past 2019/20 year. We provide monthly newsletters to all our subscribers as well as members specific newsletters on a quarterly basis and the pie chart is just a quick geographic breakdown of our membership. So the bulk from Victoria, New South Wales and Queensland and South Australia and a few overseas representatives as well. We have a passionate and dedicated social media coordinator Michelle Neil and she manages by and large many of our social channels single-handedly. So we've got a great following on Facebook and Twitter. We've got a LinkedIn presence, we're pretty new on Instagram but we're building that channel and most recently we've started a dedicated YouTube channel and encourage everyone to have a search for the Australian Citizen Science Association's YouTube where we've loaded up a numerous online resources including from our online event which we held throughout October of this year and it's a great starting point for resources and talks on citizen science. And it really gives the really great flavour of the breadth and knowledge of activity and the citizen science space in Australia. So I've touched on what the association does but haven't really discussed what exactly citizen science is and perhaps the most controversial thing about citizen science is the definition. It provides a lot of heated debate but essentially as Andrea said it's public participation and collaboration in scientific research and it's the aim to increase scientific knowledge and this is really the differential to environmental volunteering is that for it to be citizen science it really does have to have a scientific element to it. And as many of you know citizen science isn't new. So many of our earliest scientists or naturalists weren't professionally trained scientists and there are projects that have been running such as the Christmas Island Bird Count in the US running for more than 100 years now which is essentially a citizen science activity. But what is new is technology and technology has really changed the Citizen Science Space and resulted in it sort of gaming as much interest and speed and acceleration as we've seen over the past ten years or so. And it really is the advent of the smartphone and that most of us now have a smartphone at hand and with that we have the ability to take a photograph of something which provides an automatic time and date stamp as well as access to a number of apps and platforms which can help provide that rigour around our scientific observation and monitoring more broadly. And I think there are some really interesting changes that technology has brought to this space that's it's worth being quite cognisant of. And that first is the realisation that my data adds value and this is something quite new. So understanding that what you're observing out in the landscape you can record it and you can report it and actually that has tremendous value.
That's very, very powerful. And with this I think will come and have come that challenge of vertical expertise. So no longer thinking about this kind of ivory tower of learning where we get knowledge from top down but actually thinking about much more of a multi directional flow of knowledge and learning and understanding that of course, there's scientific expertise. But scientists we have a lot to learn from the public as well. And with this sort of reframing of expertise comes a real growth in peer to peer sharing and crowdsourcing. So thinking about blockchain and sharing your power with your neighbour and very much tapping into that broader network of individuals that we're starting to see. And I think exponential technologies are where the power of citizen science really does lie. And by exponential technologies I mean 3D printers, sensors, drones, artificial intelligence, machine learning and those technologies coupled with citizen science is tremendously powerful and we're really starting to see that over the past few years in particular. Next slide please. So all of this interest in citizen science has started a flurry of association globally. So here, obviously we've got ACSA. But overseas there's a very active European Citizen Science Association a US Citizen Science Association. Both were formed around the same time as the one here. We have Cit Sci Asia which is fairly new and recently formed Association in Africa with other emerging groups and associations in South America for example. And next slide. And all of this is because of this global interest in citizen science. And so as part of ACSA we are part of something called the Citizen Science Global Partnership which is essentially a representative body under the United Nations and all of the other associations that I mentioned are held up under this umbrella. And this has provided amazing experience for those of us at the various associations. This is a photo of a few of us in Kenya at the United Nations Science Policy Business forum in 2017 where we were there representing citizen science as a delegation and really advocating for it and different approaches. And in terms of the U.N to consider.
And the United Nations is particularly interested in citizen science in terms of how it can inform its sustainable development goals but there's also significant work underway in terms of something called the Earth Challenge 2020 which is really an effort to try and standardise local based citizen science approaches so that we have a better global picture of really large global challenges such as plastic pollution. The European Union has quite a concerted effort under their horizon 2020 theme and I'll touch on that a little bit later in the presentation. And recently UNESCO has really gotten behind open science and has just put forward some recommendations or global recommendations for various countries to consider and to sign up to. And citizen science there's a strong flavour of citizen science within the Open Science recommendations that they're really fantastic measurement mechanism for help us to help achieve those ambitious goals. Next slide.
So all of this has resulted in a huge uptick in Australia in terms of interests and projects that people can participate in. So the Australian Citizen Science Association we partnered with the Atlas of Living Australia and that ALA is the host to a citizen science project finder. That project finder has over 500 projects in it and there's a steady increase of projects on a monthly basis that we put into the finder. Importantly though, the project finder is also linked into the Chief Scientist STARportal which is Alan Finkel's mechanism to greater engage the community in education. And the Guardian Australia did a good feature on citizen science a couple years ago and they developed an app and the finder is also linked into that app to facilitate people to find citizen science projects. Importantly though it's also tapped into scistarter which is the US platform for searching citizen science projects. And so any projects that are in Australia where people can participate globally so anything online you can find it in scistarter. So we truly do have a global audience to many of our projects and of course, this has links into the other associations that I mentioned earlier. So not only has this resulted in Australian projects accessible globally but it's also made global projects accessible to Australians. So it's a really fantastic initiative. Next Slide.
So in terms of the policy setting in Australia there's some really, been some really interesting developments recently. In 2019 the Australian Strategy for Nature was released and within it there are very clear targets and KPI's for citizen science. Queensland as well under their chief scientist released the state strategy for citizen science. A few years ago. We've also seen citizen science emerging in terms of priorities in State of the Environment Reports. So it's referenced in the ACT's 2019 SOE and recently Victoria outlined a strong citizen approach in this document that you can see the image on your screen as it's approach to SOE in 2023. And most recently ACSA was engaged to review the scoping papers for the federal state of the Environment report and to read the scoping papers and to advise if there's any additional references to citizen sciences, that science that might be inserted or useful data that the SOE could draw on to produce its report. So it's great to see it getting traction. But there's also been two scientists occasional paper under Ian Chubb out in 2015 and there's been some government's strategies positioning themselves and in terms of their goals and aims in citizen science. So the former New South Wales Office of Environment and Heritage released a citizen science strategy and most recently ACSA partnered with the New South Wales Natural Resources Commission to produce a strategy to help support their forest monitoring and improvement program. And I'm aware of several other government agencies that have plans in place to produce strategy.
So some really, really encouraging work on this space. Next slide please. In terms of investment, again really encouraging. The Great Barrier Reef Foundation has a very active community in citizen science program. The Queensland's Chief Scientist has also invested in citizen science coupled with the strategy that they released. In 2017, there was a large round of citizen science grants and where I think 18 projects were awarded pretty significant funding and really encouragingly, earlier this month there is a second round announced of citizen science grant and this was released under Minister Andrews. So another, you know large chunk of funding which is fantastic. The Minderoo Foundation. So the fire and flood resilience initiative also really interested in citizen science and thinking about it. How might apply to bushfires and flooding. And of course we've seen some dedicated citizens science positions which is always needed. The EPA Victoria has some dedicated positions, New South Wales Department of Environment as well. Great Barrier Reef, Australia Museum as well as many NGOs. Now I have tacked on the European Union's investment in citizen science. It does. It is massive. So under the Horizon 2020 scheme they have invested 460 million euros in citizen science. So they really, well and truly are leading the way in terms of the kinds of platforms and tools and resources that they have been able to develop under that funding. Next slide please. So the recent bushfires. So ACSA was absolutely overwhelmed, as many of us were, when the 2019/2020 black summer bushfires were happening and we were receiving inquiries from people all over the world wanting to help and to understand how they could immediately contribute.
And this is reflected in a recommendation that was out of the bushfire science roundtable that was headed by Minister Andrews where she has asked CSIRO to lead a process to identify opportunities for citizen scientists to be involved in that bushfire monitoring space. And this request was subsequently reflected in the report and climate and disaster resilience that was released I believe in August of this year and then again very encouraging to see the recognition of citizen scientists potential to contribute reflected in recommendations 36 of the New South Wales bushfire inquiry report. Next slide. And so these recommendations resulted in the development of the Citizen Science Bushfire Project Finder which is essentially a subset of the projects that are in the larger project finder but with some notable differences. So when the association became, we tried to muster our resources very quickly when receiving all these inquiries into how could people meaningfully participate and a working group was formed to see what we could stand up in a pretty short period of time. So the working group decided on some broad criteria for inclusion in this Bushfire Project Finder and some of the initial criteria were that it needs the projects that were listed need to fit the FAIR criteria and FAIR is an acronym for Findable, Accessible, Interoperable and Reusable. Another criteria that we included was the ability to capture data and that the methodology was transparent and can readily be scaled to support monitoring and recovery efforts. So now I think we've just ticked over to about 30 projects listed in this project finder and they're all different ways that people can become involved in the bushfire monitoring and recovery effort. Next slide please. And as Andrea mentioned I was also privileged to co-author an article with Dr Alan Finkel and this was released in August and we outlined some of the ways that citizen scientists had contributed to bushfire monitoring so far, but importantly we also provided some recommendations around how we could further strengthen that work and further promote the amazing work that's going on in Australia.
So I encourage you to have a look at it as well. Next slide. So now I just wanted to provide just a quick flavour of some of the projects that are running in Australia. And this is just a quick snapshot. There are many others that exist. So this is the Environment Recovery Project. It's run out of the University of New South Wales using the iNaturalist app which for those of you that don't have the app, it's a global app. It's very intuitive and very easy to use for a recording observations. The Ecologist that developed this project she was actually affected by the bushfires. Her property was impacted. But she was encouraged when she was looking at her land to see it recover. And she thought well if this is sort of healing for me then I can help include other people in this monitoring and recovery process. So she initiated this project. It's been hugely successful to date. Despite COVID with well over 9,000 observations now coming in. 1,700 species logged. And this is a map of where all the observations have come in over that that fire affected region and some really interesting observations, they've published a paper, a scientific paper outlining their findings. So it's been a really wonderful success story. And when I was speaking to her a few months ago she said that while observations from the general public there was a bit of a downturn during COVID the landholder had continued to monitor and to observe their properties and they're finding being part of this project is very healing. And I think that's a really important element to this as well. Next slide.
So camera traps have been obviously a big component of the recovery effort and there are a number of different camera trap projects out there. This particular one that I have on the slide the images are hosted by DigiVol which is a platform run by the Australian Museum and supported by the Atlas of Living Australia. And one project on there is the Kangaroo Island Dunnart project where they've put up 50 thousand images. These have been processed in record time by over 900 citizen scientists. This is one of the images there and the flow diagram was produced by the convenor of that project Matt Miles who works for the South Australian Government and I really like how he's shown how citizen scientists fit into that monitoring and recovery effort and the review and curation of images is just such a fantastic thing that many people from all over the world can jump on and do and do at their own time and it allows you a really interesting insight into another world that that many of us don't get to see very often. And I should say that the DigiVol platform has seen a 50% increase in terms of participation and processing of images over the past nine months which is a real testament to the platform and the people that are keeping it running but also perhaps reflects that many of us have been at home more than usual and looking for a sense of purpose during what can be quite challenging time. Next slide. This is a fairly recent project initiated by a younger researcher Erika Roper. Really interesting project again using the iNaturalist app. The data collection method behind it. It's only about three months old but already she's seen you know well over 300 observations and 30 species recorded. And what she's really interested in is the diet of parrots and how that might have changed after the bushfire. So there's certainly some really interesting anecdotal reports of parrots moving into Peri-urban or urban environments to seek those food resources when those have been impacted. So I keep a watchful eye on this project and see what what's being reported and what sort of interesting finding she gets out of that one. Next slide.
So now I'm going to just jump into giving a bit of a wider flavour of other kinds of citizen science projects that are running in Australia. These three projects here on the screen they are the finalists for the Citizen Science Eureka Prize in citizen science. The first one is the Victorian Coastal drone monitoring program that's enabling citizen scientists to predict how beaches are responding to storms and that should say rising sea levels. Apologies for that. Another one is the Brush turkeys in suburbia. Some really interesting findings from this one so far. Brush turkeys were extricated from a lot of their habitat but they're returning and it's a very interesting question to see what species are able to survive and indeed thrive in semi urban environments. So this project is focused on that question. And then the third is an online project AstroQuest. Again looking at involving citizen scientists and understanding galaxies. So these images were all taken out of the from the Australian Museums Eureka prize page and encourage everyone to jump on and have a look at those three finalists. And then I think there I think it might be the 26th of this month that the finalist is announced. Next slide please. So in a few minutes I'll play the video for this one. This is the Australian Museum projects there. They're calling it Extreme citizen scientists. And when I was speaking to Paul Flemmins at the Australian Museum who is the project lead of this he wanted me to reiterate that it really is the citizen scientists that have been involved in all the logistics and the planning of this project that made it so successful. And essentially what they did is they train these six professional climbers that didn't actually have much background in in biology but they have the ability to climb this pyramid that you'll see in a few seconds and collect this important Phasmid in site. So I might see if we're able to play this video. Yeah. It's just a two or three minute clip and it really gives you an idea of this fantastic landscape on Lord Howe Island but it's freely available. So that's a really good example of citizen science, extreme citizen science. I might move on then. So this is another fairly recent example but it's asking citizen scientists to transcribe historic climate records from 1840 to 1856. And the goal of this project is to better understand really specific information about the country's climate back in the mid 1800's and so that's called the Climate History Australia project and some really interesting work going in and then looking at these old journals and transcribing them for science. So that's a really engaging one as well that you can do from home. Next slide.
So I mentioned COVID-19 and the real uptick in citizen science that we've seen during this year and Earth School was put together the massive global collaboration by a number of organisations globally. But it was released I think in June of this year and it was really a response to many students being at home during the pandemic and unable to not only attend school but also to really get out and to experience nature. So encourage everyone to go on again and have a look at the Earth School resources but very excitingly one of our management committee members Jessie Oliver was involved with a number of other collaborators in developing Quest 26 which is a citizen science specific quest. And so you can go out and you can, there's different workbooks and activities for a wide age range and learn more about citizen science and some of the things that we can do and participate in from home. So that was a really massive effort, a really fantastic initiative. Again trying to encourage younger people to still think about the environment and encourage them to learn more. Next slide.
Moving onto a micro scale here. These are just some of the really fun examples that are out there of other projects. One is Critterpedia. It's it was developed by Data61 and it's an app where you can go and take pictures of spiders and snakes and what they're doing is they're training their artificial intelligence system to go and to be able to recognise these images. But I think really the best component of this project is that there's some really interesting educational resources behind that. So getting people to be more familiar perhaps and comfortable with the small scale thing. Another project that's run out of CSIRO is the ant mimicry project. It's the gamification approach to citizen science where you're asked to identify the similarities between the two images. And this work is helping scientists understand patterns in the mimicry in in velvet ants. So it's a really interesting example there. Next slide.
And so I don't present that the citizen science projects are all biodiversity related. There are some that aren't. I think about 90-95% of projects in Australia are biodiversity related but CoastSnap is a really excellent project that was started by researchers at the University of New South Wales and at the former Office of Environment and Heritage as a project to initiate community monitoring of beaches. And initially there were two beaches that were involved in the CoastSnap project. North Narrabeen in Sydney and Manly Beach. And the idea is really that I think there's a over 11,000 beaches in Australia and only a handful of these are professionally monitored and so it really does provide amazing potential for citizen scientists to help scientists understand beach erosion. So it's a very simple premise. There's a cradle that you can see there on one of the photos. It's there's always elevation required for this project to work. And once images are submitted over a hashtag they're then stabilised and rectified to provide a snapshot of the beach condition and I might see if this video will play. It's just an amalgamation of some of the snaps over Manly Beach. There was a video as well of that one and it's again just showing how the beach changes over just a couple of months time and those images were all provided by citizen scientists for this project.
Alright. Moving on to the next slide. So the Great Southern BioBlitz has recently concluded this was a tremendous effort. Again all volunteers running this this project. It was essentially the Southern Hemisphere's response to many projects that the Northern Hemisphere initiates in their spring. Of course that's our autumn which is not always as useful and informative as running large scale biodiversity snapshots. So the Great Southern BioBlitz was held at the end of September, beginning of October and at the end, three continents participated. Twelve countries and well over 150 cities and throughout that two week period there were over 90,000 observations recorded. And that graph down at the bottom of the screen that just breaks down the number of observations by cities that were involved in this initiative. Cape Town blew everyone out of the water in terms of the observations that they recorded but many of the ones underneath are Australian cities that were involved in this BioBlitz. And so it was really a fantastic initiative and great to see such widespread local involvement and a real snapshot of the southern hemisphere over a two week period. Next slide. Now of course I would be remiss without going into the monitoring space given this is an EPA led talk and there's many, many apps out there for monitoring and recording our environment. There's one is where you can monitor air quality light pollution, water quality, noise. There really is no end in terms of apps that are available to help facilitate monitoring, and I'll just go into a little bit more detail on the next slide. So one of the projects is an air quality project and this actually received funding it was one of the recipients of the 2017 Federal Citizen Science Grant. It's Eye on Water and it's a fairly simple premise that citizens take a snap with their smartphone of water and then they use a colour guide to try and derive a measurement of water quality from that. And this information is helping researchers to monitor changes in Australian waters and report things such as algae blooms and Eye on Water also saw a huge uptick during and post bushfire citizen reporting changes in their water quality because of the sediment flows that were observed. Next slide please.
And I mentioned earlier that the Europeans were really leading the way in terms of developing resources and platforms in the citizen science space. And this is just a flavour of some of the ones that they've set up over the past few years. So Citclops is really the one that preceded the eye on water project. It was the first attempt to sort of gather large scale data for coast and ocean monitoring. Citi-sense it's a great platform. Again I mentioned there's a multitude of apps that exist but it's a platform that evaluates the different sorts of sensors and platforms that exist for monitoring and tries to provide a bit of a guide and a framework to guide citizen science about what's best to use. And this one the odour monitoring information system is a really interesting initiative based on sensors and it's all based on reporting odours and, and how the community could be involved in that really important work. So encourage everyone to look up those projects as well. Next slide please. So of course, and Andrea touched on this in her introduction the EPA in Victoria also has a strong citizen science program. And I know that many of the coordinators are online today and would be happy to go into more detail about their projects during the Q&A session. But again, I encourage everyone to jump on the, the website, EPAs website and look at a number of projects that they have running, focused on air quality monitoring and zinc mapping for example. So, happy to take more questions on this at the end of the presentation. Next slide please.
So now I'll touch a little bit on about what we've learned about citizen science and best practice. And this figure was based on some social research that we did a few years ago now. So the understanding or the recognition of the term Citizen Science very well could have changed since then. But it's always useful to do social research testing and try and step out of your bubble. And I think I live in a bubble where I think everyone understands and knows and is excited about citizen science. But it's important to understand that that probably many of the general population this term is still quite new. So we asked some focus groups about they were across a number of different ages and areas and backgrounds and we said what do you think the term citizen science mean? And most of the people had had no idea. So people said you know is it something to do with Citizen Kane. I really don't know what you mean. I feel like that's outdated a couple of people thought it might be related to something environmental but I think this really reflects that it's really important that we not lead with the term citizen science when we're developing our own projects and trying to communicate about it, cause there are most likely many individuals out there that don't really understand the term very well. And there was this term citizen science was really led out of the US where I think the citizen has a different sort of understanding there and that could be part of the reason here. Next slide.
But the encouraging thing is that once you explain the concept of citizen science, that people are on board. So once you explain to them what it's about they really get it and they think that that would be a fantastic mechanism for them to make a difference. It taps into their curiosity that has something to do with technology, something around their community. So that was very encouraging to see that that perhaps there isn't widespread recognition. But once you explain it the concept resonates widely with a lot of people. Next slide. And so this led us to put together a few sort of basic principles about citizen science. And this is particularly relevant for practitioners or people wanting to start their own project. The first is obviously that few in the community understand what Citizen science is and the name can be a little bit alienating so just sort of keep that in the back of your mind. But the important thing is that once you explain the term most people are engaged and they see the benefits for science. Crucially though, science was seen as a real barrier. So with a lot of the focus groups people said well that had something to do with science. And I did year twelve science and so therefore I can't possibly meaningfully contribute. So when we're thinking about the design and the practice of citizen science it's important to invite people in. And to clearly explain how their contribution matters and what will be involved in participating in citizen science. And this is really to try and get their attention. Next slide. And from this we built a ladder of citizen science. Again to help with that good practice around citizen science. Then Andrea also mentioned the ten principles of citizen science that the association has also produced. And so the first sort of thing to keep in mind when we're building and developing projects is to have a very clear and common purpose. And this is crucial. And I think people need to know why they're contributing and what they're contributing towards and that has to be very clear. It's also important to tap into people's passion and trust. This again emerged from the research. So people said you know I'm interested in so and so and we know that some people are really passionate about spiders. And so they might participate in a project to do with spiders but something else on bandicoots they would have no interest. So keep that in mind that people are very much driven by their interests. One thing that also emerged is really important is to have very clear time frame around participation. So people will be unwilling to sign up if they don't know how much of a time commitment will be involved. And this is extremely reasonable and still provide very clear timeframe and try and make it as convenient as possible.
And I think this is one of the reasons why online projects have seen the growth that they have is because people can do that at their own time and they can control the amount that they contribute. Another really important element is this regular feedback and tracking your progress. So it's really, really important to say what the data is being used for and how that will perhaps make a difference or what policy that might help inform or how that information is being used more broadly. And then where you are in terms of the stage of the project. It's also really important to acknowledge and reward citizen scientists. And by that I just mean a thank you. Or perhaps a certificate or a barbecue. It need not be much. Although there is quite a bit of work now that's going into ethics, citizen science and ethics and I'll touch on this a little bit later in the next two slides. Thinking around proper attribution. Of citizen scientists and what this looks like in practice. And then finally the social experience came out very strongly as something that people would see as a strong benefit from participating in citizen science. So if possible think about trying to arrange meetings and we use social media as one of the main platforms to invite people in to participate but to also distil information and results back. There are a number of toolkits out there to help in best practice design and development of citizen science. And I actually just heard about a new one that was just published a few days ago.
Again out of Europe it's called BiodivERsA and that's a PDF guide which they're calling a citizen science toolkit. There are a number of other toolkits though, there is one that is the New South Wales seed platforms. This is the data platform and they try and get people through the process of citizen science design and best practice. There's also one that was developed under the Obama administration under the White House and one out of Cornell University again in the U.S. So encourage people to have a look at those existing resources as well. Next slide please. So, I didn't want to gloss over some of the challenges that are still facing the Citizen Science Space, and there are many but I was reflecting on this the other day when I was hearing the same old argument that you know, citizen science isn't robust and they have had the experience with it five or so years ago and these were the sorts of problems. So citizen science in terms of its practice is fairly new but around for a long time. But the advent of technology and the kinds of apps and platforms and resources that are being done and being developed and the amount of research into both the social research and the scientific research is absolutely enormous now. And so it is an area that is advancing in leaps and bounds. And so when you hear those arguments against citizen science is worth being cognisant that it's actually quite new and it's actually some of the things that have been put in place even over a few years really help address some of those barriers that are being presented and argued against. So some of the challenges do remain. And those are sort of a lack of support structure. So what I mean by that thinking about funding availability so comparing the amount in Australia in terms of investment versus European. For example, the need for training so needing to train not only citizen scientists so not only participants but also practitioners and scientists in terms of the best design for projects and also really important the synergies between these two.
And of course, mixed attitudes towards the value of citizen science, and both scientists and participants. This is prevalent but I always work with the people that want to work with me. And there's no shortage of those. So for people that maybe have having this is a bit of a roadblock. I'd say start with a champion. Ethics is a really interesting one that's emerging both animal and human. So in terms of animal ethics I think the animal ethics committee need to start sort of thinking about this. And I know there has been some movement there but it's a real grey area in terms of when you might need an animal ethics application. And so currently the guidelines are what you need in application when you're undergoing scientific research. But then what what's the line then between someone that's out for a bushwalk and taking photos versus someone that that's out for a bush walk taking photos and then uploading those through a platform that will then be used for scientific purposes. So it's a really interesting space, ethics. And then in terms of human ethics that I spoke about earlier a lot is invested into attribution and making sure that citizen scientists aren't just used in the process of generating scientific knowledge and thinking about things like including them on scientific publications for example and then proper accreditation and all this sort of thing and that work has really been led out of the US and is really fascinating in terms of the recommendations that are putting forward. And of course methodological. So citizen science is often touted as a mechanism that can really increase the diversity in science.
And this is certainly true. But I don't think we've yet achieved sort of, an ability to really attract a really wide diversity of participants. And so I think some earnest work needs to go into that space to try and understand why that is and what we can do better to attract a much wider range of cultures and backgrounds into citizen science space and also the optimal participants. So thinking about who best to undertake a certain project. Data quality of course is the big one in terms of providing robust and interoperable data and my next slide speaks a little bit into that interoperability space. However I was just speaking to Peter Brenton who's with the ALA. He's been working now for a year with a global cohort of people developing some principles for citizen science data and metadata and they are this close to publishing what they're calling PPSR which is Public Participation in Scientific Research which is a set of global trans disciplinary data and metadata standards for use in citizen science. So that will be a really welcome addition when that's published in the coming week. And then of course data transparency remains an issue as well. Next slide. So this figure is out of a paper. And again it's a few years old but I think it kind of highlights the challenges in citizen science in terms of interoperability and data and platforms and apps and the connectedness or lack of connectedness between all of them. So there are some fantastic platforms out there. GBIF, ALA, SEED, that try and provide connections between all these different citizen science platforms and apps but there's lots of data that we know that are sitting on people's laptops or indeed on spreadsheets in log books etc. And a lot of it isn't connected and I think there is such a risk of duplication in this space and simply not knowing about the other projects and initiatives that are out there. And then the duplication of data as well remains the big issue. So this remains a really big challenge for citizen science and something that we need to keep addressing in terms of making sure that the data that we're collecting is reliable and also being really clear on the limits of the data that we've collected and really good metadata is crucial for that. But I definitely wanted to end on a high, and I think the opportunities for citizen science far outweigh the challenges that I've touched on earlier. So there's absolutely such huge potential to scale the data collection process.
But citizen scientists don't necessarily just need to be involved in data collection they can be involved in processing of information and also hypothesis generation. So really they can be involved in any or all of the steps from a scientific process. And I think very importantly, citizen science helps us tap into this growing democratising science movement or open science movement that I alluded to earlier. So very much moving away from the model of top down learning but sharing of knowledge and experience is really crucial and important. And again this year, that's been so challenging for many of us have them thrown democratising space really out into the open and how important it is that all of us as science practitioners think about that and how well we're doing. Obviously there's the massive potential to engage a much wider audience in science and growing the awareness of science. There are some cost savings that can be had but citizen science is definitely not free. And one of the strong recommendations that I would have when you're starting up a project is think about the length the project and if you're wanting to build a new app, think about app maintenance and longevity and all those sorts of issues. There's tremendous cost that can be involved.
And as I spoke about earlier there is tremendous social benefit to participating in citizen science. So not only giving people a sense of purpose and contribution but also a social element that can be involved in many projects. Making the best use of technology. This is going to be such a fascinating space. The artificial intelligence sitting aside some of these - behind some of these apps is really amazing. The other day I was out for a bush walk and I took a photo of a sundew and within and I've loaded it up through the platform and before I could even put in the species it was already providing me the right suggestion of what species it was, there's such tremendous power and potential. Two-way learning or multi directional learning so opening up a conversation about what scientists can learn from their community and vice versa. And then of course tapping into STEM that all important STEM education. Next slide please. And this is my thank you side and I wanted to acknowledge the shoulders on the people that I've stood on to provide this presentation. Many of the projects that I spoke about today were not my own. So full credit to the initiators and the leaders of those projects as well as the various platforms and other initiatives. And with me on the association has been a host of volunteers who give their time dedicated time to citizen science to help with championing it and advocating for it. So with that and a huge thank you to the team at the EPA for inviting me here today I might open it up to any questions or comments. Thank you.
DR ANDREA HINWOOD:
Thanks Erin. Thanks. I'm sure everyone is sitting at home. Thank you very much for the presentation and for actually outlining the breadth of citizen science projects and the opportunities that we have. We actually have a couple of questions in the Q&A. OK. It looks like it's frozen. For those of us who are running this maybe in the interim it might be good, if Geraldine Davis who is our citizen science coordinator might just like to say a few words about EPA Victoria's program. Geraldine would you be happy do doing that.
GERALDINE DAVIS:
Absolutely Andrea. Yes. I'm Geraldine Davis I'm the citizen science coordinator here at EPA and we've got we've had some really interesting projects running over the last year or two. We've had some projects down in Latrobe Valley in particular we've been completing a dust study with some of the citizen scientists in that area. We've also currently had a zinc mapping study which has been running across Victoria and it's been really timely because we started it last year and we're actually asking community to actually get some samples for us. And what's been really good this year is during COVID, we've had people in rural areas and they've been able to continue to collect some of those samples for us. So that's one of the projects that we've had online. I've just noticed I think is Erin back? No. I can see a photo of her. But I'll keep talking anyway. And a couple of the other projects that we've got at the moment we're working on a water project with a group down at Albert Park and that's a fantastic project with a number of students. So we'd certainly encourage anybody that's interested to get involved in any of the citizen science projects that we've currently got running through EPA.
DR ANDREA HINWOOD:
And Geraldine how do people make contact with EPA? Contact you at EPA or through our call centre what's the best approach?
GERALDINE DAVIS:
That's a good point Andrea. Usually through our call centre is good. If you're really, if you're interested in the projects that we've currently got happening all you need to do is hop onto the EPA website. We've got a list of the projects there just so that you can get an idea of what we've currently got running. It might be a case that there's something happening in your area. If we've got a new project running in your area what we tend to do is we tend to advertise locally so that people know what's going on in that region but certainly jump on our website. Have a look at the projects that are there and certainly, if you want to get involved, best way is to go through the call centre and we'll get back in touch with you via the citizen science web site.
DR ANDREA HINWOOD:
Thanks Geraldine. Can we find a location specific projects within 5km or 25km or is it just the projects running and they operate in particular areas like ours in Bendigo or inner Melbourne. Can you answer that Geraldine?
GERALDINE DAVIS:
Yeah that's a good question Andrea. A number of our projects obviously run within Melbourne and some of them run across Victoria. So it's a case that if people get in touch with us, particularly our zinc mapping program we're able to send kits out to people. So it didn't really matter which location they're in. So if you if you've only got a 5km radius you could certainly get involved if you've got more than that you could get involved as well. With further citizen science projects. A lot of the time if people are interested in some of the Australian citizen science projects particularly if people are limited in being able to get out there's often projects they can get involved with online. So most of our projects at EPA actually do require going out into the field or working from their home to complete something. But certainly I would encourage you to get involved.
DR ANDREA HINWOOD:
Yeah look we're really keen. So I've just been advised that we do have IT issues so we can't get Erin back. There are a lot of questions there for those that we can answer. We will actually try and get back to if you've provided your name and contact details please don't hesitate to contact us at EPA Victoria with any follow up questions and we'll try and do our best to respond to those. And I'd really like to thank you for your participation today and for being so interested in citizen science 'cause I think the value for all of us is enormous and we certainly think that it's, it's a wonderful sharing of knowledge and again problem solving. This is our last environmental science seminar series for the year we will have a program next year. So please keep in touch with EPA Victoria and have a look at what we've got on. I hope the rest of the year goes well for you all. Thank you very much for your participation. I hope to see you next time.
If you have trouble viewing the video, try this page.
In this session, Dr Erin Roger, Chair of the Australian Citizen Science Association (ACSA) joined us to discuss the topic of citizen science; how all Victorians can help protect the environment and public health from the effects of pollution and waste.
During this seminar, Dr Roger shared her experience of citizen science projects, including the valuable contributions of local knowledge, monitoring and information sharing.
Insights were also shared about EPA's citizen science programs, which have been running since 2015.
A written Q&A from this session is available to download:
Environmental Science Series: Using citizen science to understand the environment (Q&A) (publication 1930)
Bio: Dr Erin Roger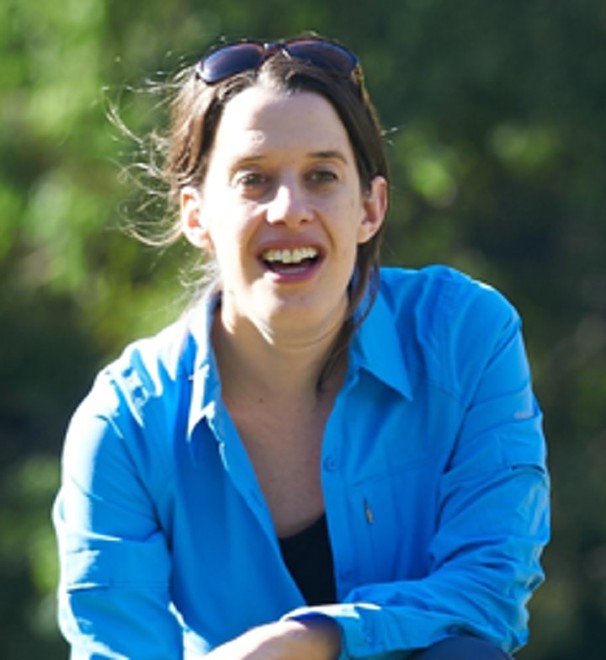 Dr Erin Roger is the Chair of the Australian Citizen Science Association (ACSA). The mission of ACSA is to advance citizen science through sharing of knowledge, collaboration, capacity building and advocacy. Erin works with nine committee members to provide strategic direction to ACSA while overseeing a growing association membership and development of formal partnerships. Recently, ACSA has been at the forefront in assisting the citizen science community in helping to respond to the 2019/2020 bushfire crisis.
Erin is also the Citizen Science Program Lead for the Atlas of Living Australia (based in CSIRO Sydney). The Citizen Science Program aims to deepen existing partnerships and build new collaborations, delivering a strategic approach to citizen science nationally. Before delving into the citizen science space, Erin worked in climate change adaptation and has a PhD in Terrestrial Ecology. She also has a soft spot for wombats.
Read next