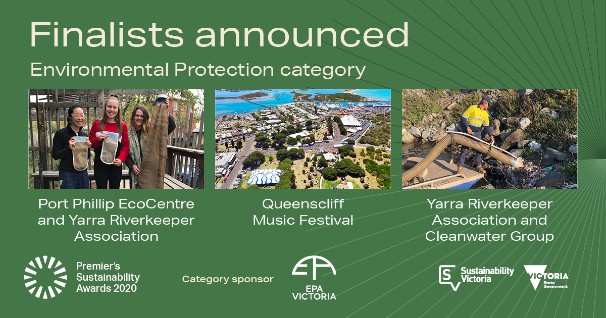 Environment Protection Authority Victoria (EPA) is proud to sponsor the Environmental Protection Category in the Premier's Sustainability Awards 2020.
This award acknowledges leadership and excellence demonstrated by an organisation, community group or individual through their conservation and protection of the environment.
Finalists in the Environment Protection category
Port Phillip EcoCentre and Yarra Riverkeeper Association – Clean Bay Blueprint - Microplastics Trawls. A three-year research project about microplastic pollution in the Bay. The project uses internationally acclaimed scientific data methods to reduce it.
Queenscliff Music Festival – QMF's War on Waste. The festival reduced their waste by 95 per cent.
Yarra Riverkeeper Association and Cleanwater Group – Litter and Polystyrene Pollution in the Yarra. A partnership to remove and reduce the impact of litter and polystyrene pollution in the Yarra River.
The Premier's Sustainability Awards will announce 11 category winners at the awards presentation. The presentation will be, to be held a free online event in on 16 December November 2020. in Melbourne.
Read next
Learn more about the Premier's Sustainability Awards
Read about the finalists in the Premier's Sustainability Awards
Book free tickets to the online Premier's Sustainability Awards presentation
Reviewed 26 November 2020