CRWM waste management policy
The Victorian Government is committed to reducing the risk of fires at waste and resource recovery facilities. The Government therefore developed the Waste Management Policy (Combustible Recyclable and Waste Materials) (PDF) (the policy) which came into effect on 28 August 2018, replacing the interim Waste Management Policy (Resource Recovery Facilities).
Compliance with the policy requires combustible recyclable and waste materials (CRWM) at waste and resource recovery facilities (WRRF) to be managed and stored in a manner that minimises risk of harm to human health and the environment from fire.
The policy applies to all WRRFs in Victoria regardless of size, other than licensed waste tyre storage premises and licensed landfills.
The policy gives EPA additional powers to support local government controls and Victoria's fire services, and issue remedial notices to facilities not properly managing potential fire risks.
In summary, the policy requires managers of waste and resource recovery facilities to:
understand the fire hazards associated with their activities
take reasonably practicable steps to reduce the fire risk associated with those hazards
conduct and document a fire risk assessment
take all reasonable steps equivalent to the guideline to manage and store combustible recyclable and waste materials in a manner that minimises the risk of harm to human health and the environment
prepare an emergency management plan.
CRWM guideline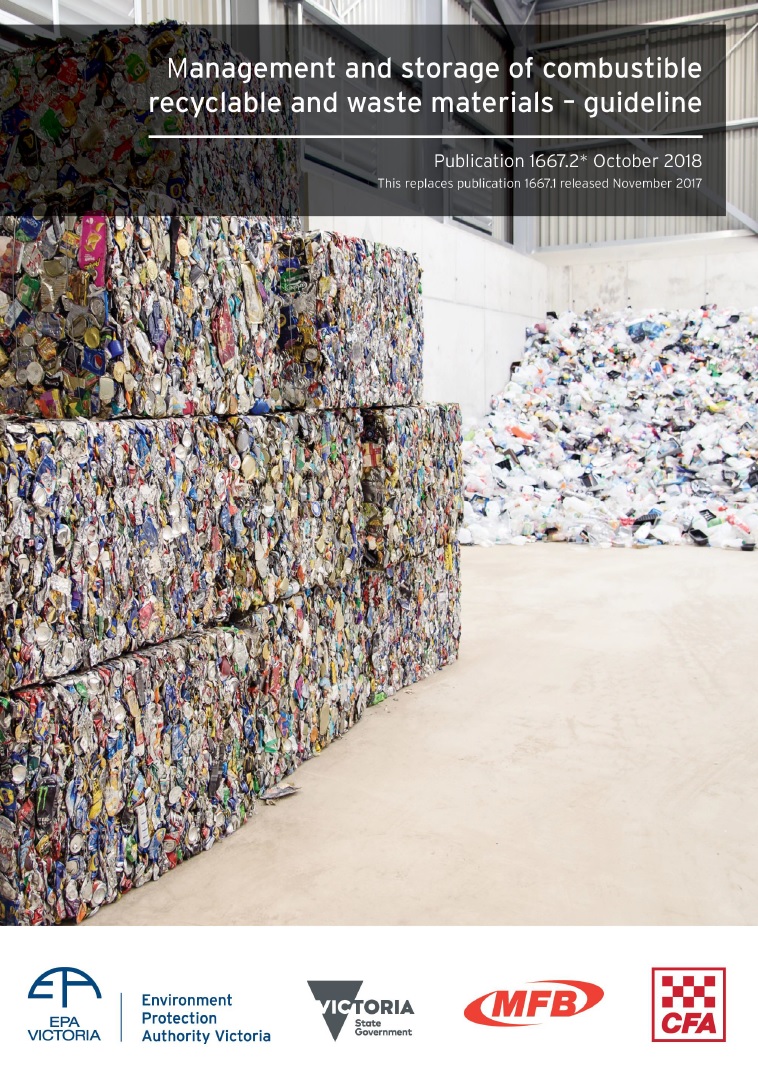 To support compliance with the policy, an updated Management and storage of combustible recyclable and waste materials – guideline (publication 1667.2) (the guideline) was developed by EPA, Country Fire Authority (CFA) and Metropolitan Fire Brigade (MFB) in consultation with a wide range of government and waste industry representatives including Municipal Association of Victoria, WorkSafe, DELWP, and waste and resource recovery groups.
A summary fact sheet (publication 1759) is available.
Key updates to the guideline
Covers the wide range of facility sizes and types in Victoria, including metro and regional areas.
Less prescriptive, focusing on providing options for industry to build their own solutions to comply with the policy.
Written in a workbook format and outlines a process that industry can follow to establish their fire risk management framework.
Describes a process for occupiers to develop a fire risk management framework, focusing on:

Hazard identification and assessing the risk from fire
Controlling your fire hazards and risks
Checking and evaluating the effectiveness of your controls.

Provides detail and information around effective storage management, including understanding how fires start and burn.
Supports the development of an emergency management plan at a waste resource recovery facility.
Provides more clarity around indoor management and storage of CRWM:

This is achieved by focusing on the process of managing CRWM regardless of where it is stored, and with added information on the specific requirements for fire safety in a CRWM indoor storage facility.

Addresses how occupiers can meet performance outcomes for fire risk management rather than stating a list of prescriptive requirements.
Highlights what is needed for compliance, using performance outcomes, regardless of operational size/type.
How the policy is being enforced
The goal is to have all resource recovery facilities effectively managing fire risks. The Chemical Waste and Recyclable Materials Compliance and Enforcement Unit will continue to determine which sites represent the highest risk to human health and community and will work with these sites to ensure compliance.
EPA, CFA, FRV, WorkSafe and local government are inspecting CRWM sites and will take remedial action through their respective regulatory tools where required. Non-compliance with the policy is an offence under the Environment Protection Act 1970. EPA may apply sanctions (enforcement) in accordance with the Compliance and Enforcement Policy (publication 1388).
Fire services, local government, and WorkSafe can also take action under their respective legislation.
Read more about the CRWM policy and guidelines
Reviewed 23 November 2020