Drivers can assign a vehicle, drop off or reject waste in the Waste Tracker mobile app. This guide explains how to assign a vehicle to pick up grouped waste.
Step one – Log in
Log in to the EPA portal mobile app.
Step two – Waste driver work list
In the Waste driver work list home screen, select the Grouped records tab to see all grouped record IDs assigned to you.
Select the grouped record ID you would like to view in detail.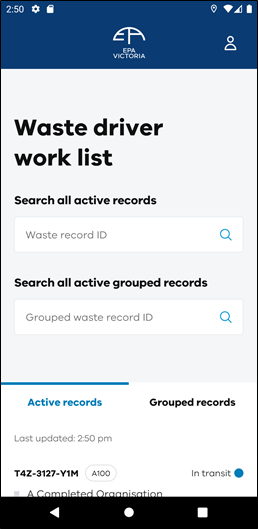 Tip: The search bars allow you to search for all active records, including individual and grouped records. The search bar is compatible in offline mode. The waste records you see will depend on when the app was last synced.
Step three – View Grouped record ID detail
All the assigned individual waste records that belong to the group will be in view.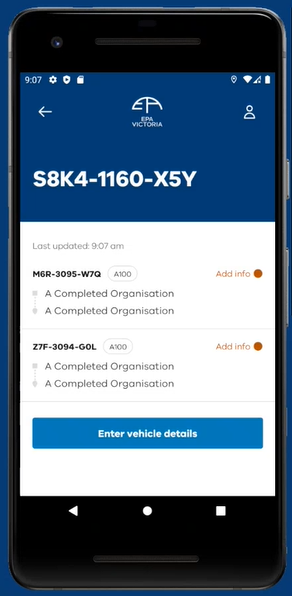 Click Enter vehicle details to complete the vehicle information.
Step four – Enter vehicle details
Complete the transport details for the vehicle you'll use to pick up the grouped waste. Note entering a Vehicle registration number is compulsory.
Complete remaining fields as required.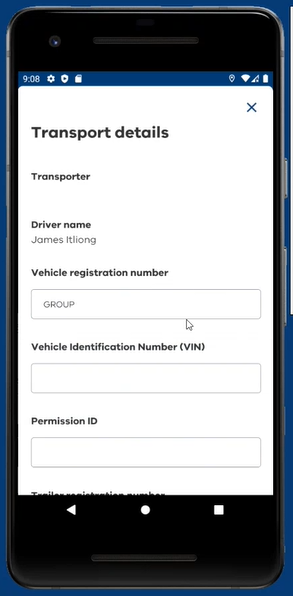 Step five – Confirmation transporting to lawful place
Tick the box to confirm you understand how to lawfully and safely transport the waste.

Click Update vehicle details to assign a vehicle.
Step six – Update vehicle details
You have now assigned a vehicle to a Grouped waste record ID.
The information status for each individual waste record within the group is now marked as assigned.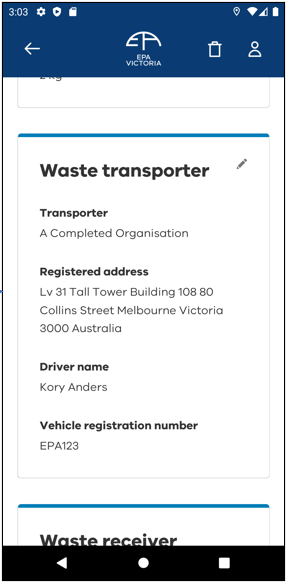 Tip: The pencil icon on the top left also allows you to edit vehicle details.
Read more